Where We Are and Where We Are Going
One hundred years ago, the Masters of Science in Foreign Service program was founded to prepare our students to engage with global challenges and opportunities in an uncertain world. Since then, MSFS students and alumni have engaged and shaped virtually every significant event in international affairs. Our students and alumni continually use their training, ingenuity, and their MSFS networks to forge a safer, more prosperous, equitable, and peaceful world. Their diverse experiences and knowledge enrich our understanding of the dynamism of the global arena, and the known and unforeseen challenges our current students will face.
Where do our graduates go?
MSFS is committed to helping students build challenging and rewarding career paths after graduation. Through both curricular and extracurricular activities, students create their own personal network of career advocates on and off campus. Each graduate leaves MSFS equipped with knowledge and skills that can be applied over a lifetime.
Today, MSFS alumni can be found throughout U.S. and other government agencies, private corporations, and non-governmental organizations. During the past decade, more than 95 percent of all MSFS graduates have found permanent employment within six months of graduation.
MSFS'21 Employment Report
98.4%
Employment Success
Employed and Continuing Their Education
10%
Working Abroad
Republic of Korea, United Arab Emirates, United Kingdom
The above numbers and sample of employers are based on a 88% knowledge rate of the Class of 2021's employment status (as of March 2022).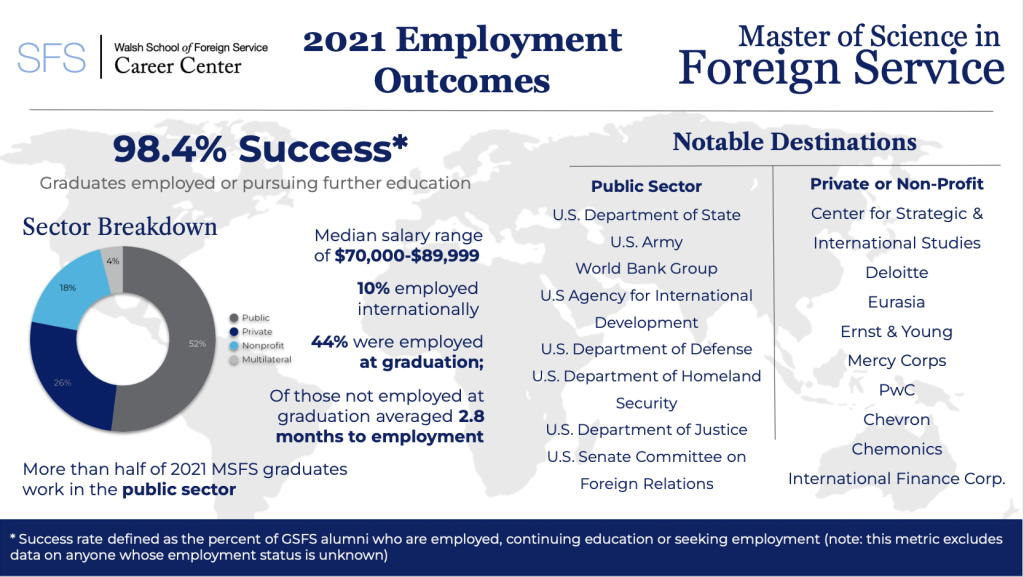 What Scholarships do we offer?
MSFS offers a number of partial-tuition, merit-based scholarships during the admissions process. These awards apply to the first year and are renewable for the second year.
MSFS Academic Scholarships
Merit-based awards come mainly from Graduate School of Arts and Sciences' general scholarship funds or from donations from alumni and outside supporters. The funds are used to recognize merit and are not granted on the basis of financial need.
All scholarship recipients must be enrolled full-time (registered for 12 credits) each semester of the award. Scholarships are applied only to tuition for MSFS credits; they can complement but not replace tuition assistance from other sources.
Scholarship Process and Criteria
We aim to award merit-based aid to thirty to forty per cent of the entering class. MSFS merit-based scholarships are distributed to students of exceptional ability and talent based on the strength of their applications in the admissions process. No additional application is necessary.
The standard scholarship amount is normally between a forty or fifty percent tuition award; however, some smaller awards may be offered. Consult the "Dual Degree Students" section below for additional information on how dual degree status may affect the amount and timing of the award.
Scholarships will only be awarded at the time of admission and are renewable at the same amount for the second year. In order to retain their scholarships, students must be in good academic standing as defined by the Graduate School's "Standards of Satisfactory Academic Performance," including earning a minimum 3.0 GPA.
A limited number of admitted applicants who do not receive an MSFS scholarship may be placed on a waitlist for merit-based aid. Applicants will be notified of their award status after admissions decisions are released.
Dual Degree Students
Dual degree applicants are considered for MSFS merit-based scholarships as part of the admissions process. As with dual degree admissions decisions, scholarship awards of each program are reached independently, and the decision of one program will not affect the decision of the other. The timing and amount of scholarships may change as students complete coursework from each program. The amount of the scholarship will be adjusted to reflect the expected MSFS course load (i.e., prorated) and can be applied only to tuition for MSFS courses. Students who are admitted with a scholarship should contact both programs to determine if/how becoming a dual degree student will change the amount of the scholarship from each program.
MSFS scholarships can be renewed based on the criteria listed under "Scholarship Process and Criteria" above. Coursework from both programs completed during the first year is considered, not just coursework towards the MSFS degree. However, the amount of the scholarship can only be applied to tuition for MSFS courses.
Sponsored Scholarship Awards
The following special funds, established by contributions from alumni and other outside supporters, provide some of the tuition scholarships awarded to MSFS students.  These scholarships are distributed to students of exceptional ability and talent based on the strength of their applications in the admissions process.  Because all scholarship dollars are awarded during the admissions process, no additional application is necessary for the scholarships listed below. Scholarships designated for second-year students are also awarded at the time of admission.
The Africa Group: The Africa Group is a group of individuals, including one MSFS alumnus, who are committed to seeing the brightest minds from the African continent make their way through Georgetown. They have made it possible for MSFS to award a scholarship to a returning student from Africa.
Chiechi Scholarship: The Chiechi family established this scholarship in memory of their daughter, Lavinia Johanne Chiechi. It is conferred upon a woman with high academic and extracurricular achievements entering the second year of MSFS.
Drew and Kelly Scoggins Scholarship: This merit-based scholarship is awarded for students enrolled in MSFS who exemplify Georgetown's mission and values through demonstrated leadership experience, as determined by MSFS.
Foy Scholarship: Mr. James J. Foy, School of Foreign Service Class of 1925, established this scholarship for a second-year MSFS student.
Geiger Scholarship: Dr. Theodore Geiger was an MSFS faculty member. He promoted freedom and democracy in Europe during his service as Marshall Plan adviser. Alumni, who remember Dr. Geiger and his commitment to our Program, maintain this fund.
Andrew S. Gundlach Fellowship: The Anna Maria and Stephen Kellen Foundation endowed this Fellowship for Andrew S. Gundlach, MSFS'95, the grandson of the Kellens. The Fellowship is awarded to a second-year student with high academic and extracurricular achievements.
Kalin Family Scholarship: The Kalin Family Endowed Scholarship is awarded to one MSFS student with high academic and extracurricular achievement.
Kellen MSFS Scholarship: The Kellen Foundation was established in 1984 to support cultural programs, education, religious institutions, the media, and international relations projects relating to Germany. This Fund provides MSFS scholarships for first or second year students selected by the MSFS Scholarship Committee.
R. Smith Simpson Memorial Scholarship: Margaret Simpson Maurin established this fund in memory of her father, R. Smith Simpson, a career Foreign Service Officer. The fund supports students in the Global Politics and Security concentration who want to pursue a career in diplomacy with the U.S. Department of State, particularly within the Foreign Service.
Scott Morse Scholarship: Scott Morse, MSFS'83, donated funds to support this partial tuition fellowship for one MSFS student per year.
Evelyn Nowik Scholarship: Dr. Henry Nowik, former Distinguished Research Professor, established this second-year scholarship in memory of his late wife, Evelyn Nowik.
Howard K., Sr. and Dolores A. Ranftle Scholarship: H.K. Ranftle, Jr endowed this scholarship in 1991 to support a second-year MSFS student with significant financial need.
Oxenstierna Scholarship: David Oxenstierna, F'87, MSFS'89, established this scholarship to support MSFS students.
Raymund Fellowship: Established by Steven A. Raymund, MSFS'81, this fellowship supports first- or second-year MSFS students.
J. Scott Schlossel Scholarship: J. Scott Schlossel, MSFS'88, endowed this scholarship to support MSFS students.
Semsar-de Boisséson Scholarship: Sheherazade Semsar-de Boisséson, F/MSFS'90, donated funds to support a fellowship for one MSFS student per year.
Schenley McPhail Walker Scholarship: The Schenley McPhail Walker Endowed Scholarship Fund was established to provide scholarships to graduate students enrolled in MSFS and who either received an undergraduate degree from Georgetown, or are veterans of one of the branches of the United States military, or are US citizens.
SoldierStrong Scholarship: This gift was established to provide merit-based scholarships to students who are enrolled in MSFS and who are veterans of the United States military.
Walton Fellowship: The Walton Family donated this award for a second-year student displaying high academic achievement and commitment to a career in international service.
Edward Weintal Bequest: The Edward Weintal Bequest to Georgetown University provides a scholarship for one MSFS student per class. The Fellow is chosen by the MSFS Admissions and Scholarship Committee. Criteria include "academic excellence and special promise as practitioners and writers in world affairs." Continuation of the Fellowship for the second year of studies is contingent on satisfactory academic progress. The recipient of this award works closely with the Institute for the Study of Diplomacy.
MSFS Program Scholarships
African Student Scholarship: As of Fall 2014, MSFS began offering a full-tuition scholarship for a talented graduate student from sub-Saharan Africa.  Special consideration will be given to applicants from Côte d'Ivoire, Ghana, Kenya, Liberia, Nigeria, Senegal, and South Africa. To be considered for the scholarship, applicants must submit all required application materials (online application, personal statement, official transcripts and test scores, letters of recommendation). The scholarship will be awarded based on the strength of the student's application in the admissions process.
Donald F. McHenry Global Public Service Fellows Program: The Donald F. McHenry Global Public Service Fellows Program is administered through the Institute for the Study of Diplomacy (ISD) and open to applicants to the any of the School of Foreign Service master's degree programs. The fellowship provides a scholarship covering full-tuition and mandatory fees in addition to featured activities for the development of the fellow's abilities to integrate lessons and tools from across disciplines and to develop strategic intellectual skills to tackle holistically both emerging and, as yet unknown global challenges. Interested applicants must submit an application directly to ISD for consideration.
Hinrich Foundation Global Trade Leader Scholarship: The Hinrich Foundation Global Trade Leader Scholarship was established through the generous contribution of the Hinrich Foundation. The scholarship will provide one student admitted into MSFS who has an interest in working in global trade and in Asia with a $15,000 scholarship per year. In addition, the student will engage with the Hinrich Foundation for mentorship and possible job placement support upon graduation. Applications are reviewed by an external committee within the Hinrich Foundation.
Maria Pinto Carland Scholarship: The Maria Pinto Carland Scholarship honors Maria's significant personal and professional commitments to MSFS. Having devoted her career to guiding and educating MSFS students and alumni, Maria embodies many of the characteristics MSFS seeks to foster in our students. A merit-based award, the Maria Pinto Carland Scholarship will be awarded annually to individuals of exceptional promise reflecting Maria's dedication to academic rigor, extracurricular achievement, and international service. The Maria Pinto Carland Scholarship is made possible by significant and generous gifts that recognize Maria's invaluable devotion to MSFS.
MSFS Alumni Scholarships: MSFS alumni rank the quality and diversity of their classmates as critical elements of their overall educational experience. Gifts from alumni provide funds to support first- and second-year students whose backgrounds and experiences provide important contributions to an MSFS class.
MSFS Futures Scholarships: The MSFS Futures Scholarship is a full-tuition scholarship and stipend that will be awarded to an MSFS student whose background or experience will uniquely enable them to contribute to the diversity of the MSFS community.
MSFS Service Scholarships: A personal and professional commitment to service underlines the MSFS degree and has marked the achievements of many graduates. In line with Georgetown University's Jesuit tradition of service to others, MSFS is exploring establishing a fund to provide support for students with past and present service to disadvantaged populations and students pursuing international service careers.