Category:

Alumni Spotlight, Featured News, News
Title:

Announcing the MSFS Centennial Living our Values Awardees
Date Published:
October 13, 2022
As MSFS celebrates 100 years of inspiring and educating global leaders, we have chosen to  honor six outstanding leaders and members of our alumni  community who embody our  MSFS core values of Leadership, Ethics, Creativity, Service, and Inclusion.  Choosing our honorees was no easy task, as innumerable MSFS students and alumni live these values every day, contributing in significant ways  to our program and the world. So we asked alumni to nominate peers whom they felt best embodied one or more of these values, and we asked a panel of distinguished alumni to choose those who they best felt represented some of the very best of the MSFS.  From playing an integral role in easing refugee crises to launching organizations tackling climate change, we have been inundated with stories of alumni who have employed their knowledge and training to forge a safer and more prosperous, equitable, and peaceful world in novel and inspiring ways.
Out of more than 200 nominations, the Centennial Awards Committee carefully selected six awardees. Congratulations to Ragnheiður Elín Árnadóttir, Ambassador Marcia Stephens Bloom Bernicat, Nicole Bibbins Sedaca, Raja Karthikeya Gundu, Paula Loyd (posthumously) and Michael Samway!
The Awardees will be recognized at our upcoming MSFS Centennial Gala in December. Join us then to celebrate these and all alumni of our program as well as our 100 year history! Read below to learn more about these phenomenal examples of MSFS values reflected in the world. 

Ambassador Marcia Stephens Bloom Bernicat (MSFS '80)
Marcia Bernicat, a career member of the Foreign Service, Class of Minister-Counselor, is currently the Director General of the Foreign Service and Director of Global Talent.
Ambassador Bernicat previously served as Acting Assistant Secretary for Oceans and International Environmental and Scientific Affairs (OES) and concurrently as the Senior Official for Economic Growth, Energy and the Environment Undersecretariat (E) from January-August 2021.  She was a Senior Advisor to the Under Secretary for E from 2020-2021 and Principal Deputy Assistant Secretary in OES from 2019-2020.   She served as Ambassador to Bangladesh from 2015-2018 and to Senegal and Guinea-Bissau from 2008-2011.  Ms. Bernicat previously served domestically in the Department of State as Deputy Assistant Secretary in the Bureau of Human Resources; Office Director for India, Nepal, Sri Lanka, Maldives and Bhutan; Senior-Level Director and Career Development Officer in the Bureau of Human Resources; Special Assistant to Deputy Secretary of State John Whitehead and Watch Officer in the Department's Operations Center.  She was Deputy Chief of Mission in Bridgetown, Barbados and Lilongwe, Malawi and Principal Officer in Casablanca, Morocco.  Ms. Bernicat's other overseas assignments include New Delhi, India; Marseille, France and Bamako, Mali.  She is the recipient of the Secretary of State's Distinguished Service Award and numerous other Department awards.
A native of New Jersey, Marcia Bernicat received a Bachelor of Arts in History from Lafayette College and a Master of Science in Foreign Service from Georgetown University.  In 2018 she was awarded an honorary degree of Doctor of Public Service by Lafayette College.  Prior to joining the Foreign Service, Ms. Bernicat worked for the Procter and Gamble Manufacturing Company.  Her languages are French, Hindi and Russian.  Equally challenging and rewarding, Ms. Bernicat has raised two sons in the Foreign Service.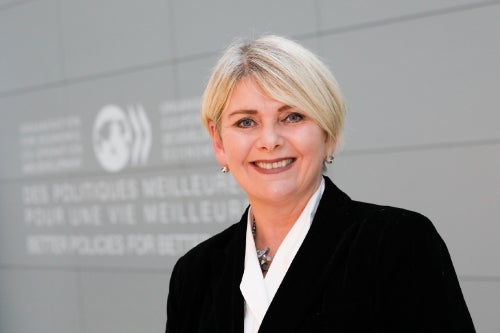 Ragnheiður Elín Árnadóttir (MSFS '94)
Ragnheiður Elín Árnadóttir has been the Director of OECD Development Centre since 16 August 2021. Ms. Árnadóttir served as Minister of Industry and Commerce in Iceland from 2013-2017 and was an elected Member of Parliament for the Independence Party from 2007-2016.
Before being elected to Parliament, she was successively a political advisor to the Minister of Finance, the Minister of Foreign Affairs and the Prime Minister. She also worked for the Trade Council of Iceland both in New York and in Reykjavík. A nonresident Senior Fellow at the Atlantic Council's Global Energy Centre, she was the Chairman of the Board of Directors of Duty Free Iceland, and a member of the Board of Directors of Landsvirkjun (national power company).
Ms. Árnadóttir has a Master's Degree in Foreign Service from Georgetown University in Washington, D.C., and a Bachelor's Degree in Political Sciences from the University of Iceland. She attended the Georgetown Leadership Seminar in 2007, by invitation.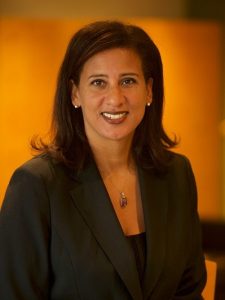 Nicole Bibbins Sedaca (MSFS '97)
Nicole Bibbins Sedaca is executive vice president at Freedom House, an organization dedicated to defending and expanding freedom throughout the world by promoting accountable government, the rule of law, civil liberties, and political rights.  She is also the Kelly and David Pfeil Fellow at the George W. Bush Institute. Previously, she taught at Georgetown University's Master of Science in Foreign Service (MSFS) program, and served as the Deputy Director and Chair for the Global Politics and Security Concentration, as well as a Professor in the Practice of International Affairs in MSFS.
Ms. Bibbins Sedaca has held numerous positions in the public and non-governmental sectors in the United States and Ecuador. She served for ten years in the United States Department of State, working on democracy promotion, human rights, human trafficking, religious freedom, refugees, and counterterrorism. 
Following her governmental service, she opened and directed the International Republican Institute's local governance program in Ecuador. She also taught at the Universidad de San Francisco de Quito (Ecuador) on democratization and conflict resolution. She also co-led the USFQ Model United Nations team that won several awards in April 2009. Prior to returning to Georgetown full-time, she served as the Director of the Washington Office of Independent Diplomat, a diplomatic advisory group. Ms. Bibbins Sedaca has served on numerous academic and non-profit boards, and currently serves on the Board of Directors of the International Justice Mission.
Ms. Bibbins Sedaca holds a Master's degree from Georgetown University's School of Foreign Service and a Bachelor's degree in International Relations from The College of William and Mary, where she was a Presidential and Monroe Scholar. She studied at Humboldt Universitaet in Berlin, Germany, while on a Rotary International Scholarship.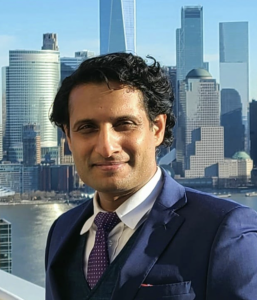 Raja Karthikeya Gundu (MSFS '09)
Raja Karthikeya Gundu, graduated from MSFS in 2009 as a Scott B. Morse scholar. At Georgetown, he strove to bring students from different graduate disciplines together, and founded SECFOR- the first inter-faculty student forum on international security.  He was a  Harold Rosenthal Fellow in the US House of Representatives, a Junior Fellow in Diplomacy at Georgetown's Institute for Study of Diplomacy. and a Nuclear Policy scholar at the Centre for Strategic and International Studies. Most recently, he was a Visiting Fellow at Oxford University's Centre for the Changing Character of War. His career has been driven by a desire to realise a world where pluralism thrives and in which there is equality of opportunity for all. As a Political Affairs Officer in the United Nations, he facilitated political dialogue, inter-ethnic trust-building and peace & reintegration processes in Afghanistan and managed grassroots efforts to protect civilians in the context of the counter-ISIS operations in Iraq.
He led the UN's Global Programme to support governments to develop inclusive and human-rights sensitive policies to Prevent Violent Extremism. He currently works on the Policy Planning team for UN Peacekeeping operations.
A firm believer in leadership with empathy, he founded "Project Madad" — a group of doctors and professionals that used a series of innovations to create the first COVID-resilient village in India during the Delta wave in 2021. He conceptualized and rolled out the first ever real-time map of hospital beds for public health emergencies in the country. In a bid to raise awareness about the impact of Climate Change on farmers and the need for Climate Adaptation, he crossed the Arctic and Antarctic circles in 2017-18. In 2004, as the lone civilian rescue volunteer on the ground, he played a critical role during the post-tsunami rescue operations in the Andaman & Nicobar islands. Earlier in 2001, following the devastating earthquake in western India, he was instrumental in the rescue of three survivors. He has received commendations and recognition from the Government of India and the Government of Switzerland for his rescue work and was named a Person of the Year by India's leading newsmagazine. In a bid to raise funds for drought relief, he jointly set a world-record in public-speaking while still in college. He has worked determinedly to promote inclusion in the international civil service. He has been a penholder for the UN Secretary-General's Strategic Action Plan to address Racism and played an active role in UN reform efforts to improve equity, diversity and inclusion. A believer in bottom-up change, he has been twice nominated for the Secretary-General's Award. He speaks eight languages and is the author of an anthology of poetry in English, French and Telugu.
His work and writing has been featured in the Dag Hammarskjold Foundation's UN Leadership Report, Foreign Policy, National Interest, The Washington Post, BBC, OpenDemocracy among others.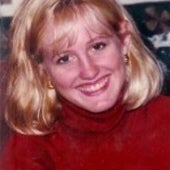 Paula Gene Loyd (MSFS '04) (1972-2009)
Paula Gene Loyd was truly a wonderful  human being who epitomized the core values of MSFS.  After growing up in San Antonio and attending high school in the Virgin Islands and Connecticut, Ms. Loyd earned a Bachelor of Arts in Cultural Anthropology and Spanish from Wellesley College. She then received a Master of Science in Foreign Service (MSFS) degree in Foreign Policy and International Security from Georgetown University, as well as a Certificate in Refugee and Humanitarian Studies.
Following her MSFS education and humanitarian studies, Ms. Loyd served a four-year term in the US Army and a four-year term in the US Army Reserve Program. While serving in the Reserve Program she became involved with humanitarian work programs in Afghanistan, and for several years after with the United States Agency for International Development, the International Organization for Migration and the United Nations.
As a Field Program Officer for USAID in Zabul Province, she worked closely with the United Nations, U.S. military, local Government officials and tribal elders on a number of humanitarian and development projects.  
Ms. Loyd's life was tragically cut short as result of the injuries she sustained while serving humanitarian causes in Afghanistan. Paula Loyd's foreign service brought a cultural anthropologist's eye – and heart – to bear on her humanitarian work. Her legacy with USAID and the US Army in Afghanistan, her selfless dedication to foreign service, and her compassion, will not be forgotten.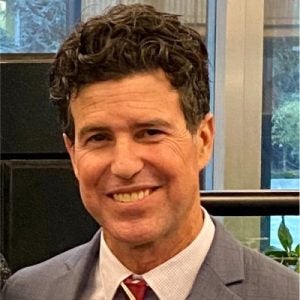 Michael Samway (MSFS '91)
Michael Samway is president of The Business and Human Rights Group. He spent ten years at Yahoo! where he was a vice president and deputy general counsel and founded Yahoo!'s Business & Human Rights Program. He previously practiced corporate and securities law at White & Case in the Latin America Practice Group. While studying law, Michael worked in the Antidumping and Countervailing Duty Operations Unit at the U.S. Department of Commerce and in the Office of the Legal Adviser at the U.S. Department of State.
Michael lectures and writes on business, human rights, and technology topics and has testified before the U.S. Congress on internet freedom. He was a senior lecturer at Duke Law School, is a former visiting scholar at the Center for Business and Human Rights at New York University's Stern School of Business, and has taught as an adjunct professor at Georgetown University School of Foreign Service, where he is former board chair of the MSFS Program.  
Samway is a founding board member of the Global Network Initiative and currently serves on the Advisory Network of the Freedom Online Coalition and is a co-lead of the Taskforce on Digital Equality. He formerly served on the Advisory Council of the Center for Democracy & Technology and the Ranking Digital Rights Corporate Accountability Index. He also served for more than ten years on the board, including as chair, of the children's advocacy organization Foster Care Review.  
Michael received BSFS/MSFS degrees from Georgetown University in 1991, was a Fulbright scholar in Chile, and received JD/LLM degrees in comparative and international law from Duke Law School in 1996.
Join us for the MSFS Centennial Gala on December 2, 2022. Click here or the image below for the event details.