MSFS would like to extend a congratulations to Brian Castro, the new president for student-led organization Diversity and Inclusion at Georgetown (DiG)! We sat down with Brian to learn more about his past, upcoming DiG activities and initiatives, and how students can get more involved in supporting diversity, equity, and inclusion (DEI) in their Georgetown community.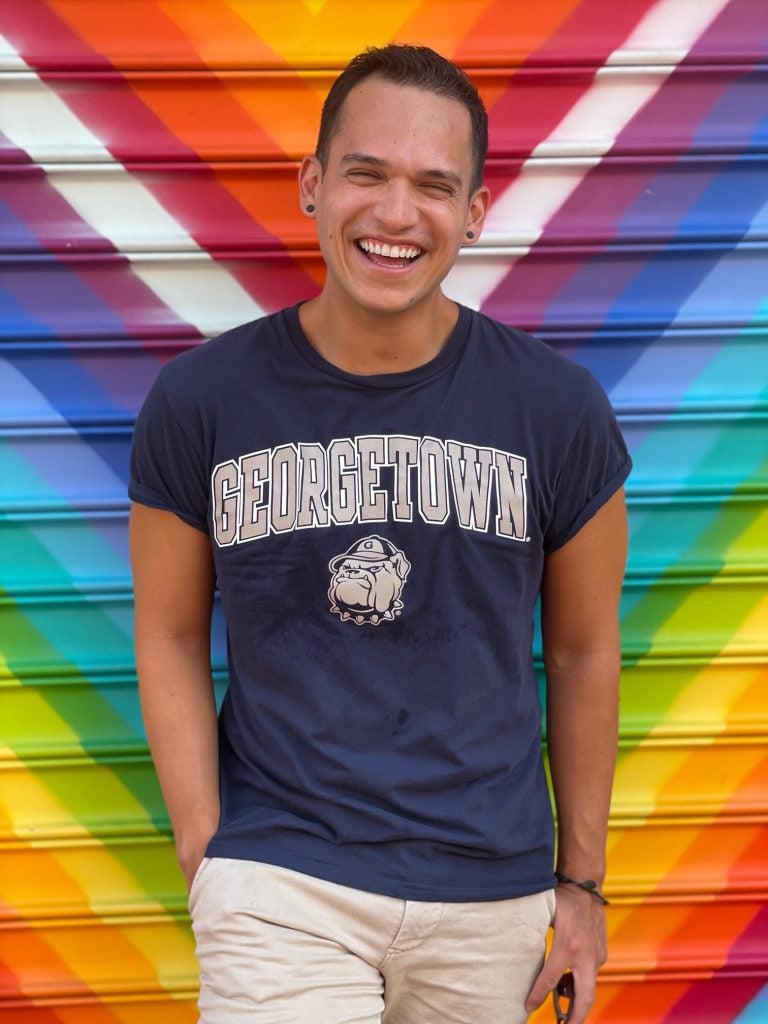 Brian Castro is a second-year Master of Science in Foreign Service (MSFS) candidate. His concentration is Science, Technology, and International Affairs (STIA), where he examines the evolving nature of vaccines as a diplomatic tool for Global Health initiatives and international affairs. Brian was recently awarded the Google Public Policy Fellowship where he will work with UnidosUS, the largest national Hispanic civil right and advocacy organization in the U.S.
Before Georgetown, Brian has – and continues to work with – John Snow, Inc., a public health consulting firm. Most relevant to his new role as President of DiG, Brian was a part of JSI's Antiracism Equity and Inclusion Task Force, where he worked with Senior Leadership to create a sustainable, achievable, and evolvable Action Plan to elevate JSI as an anti-racist organization.
Brian is also a member of DC's LGBTQ+ chapter for the League of United Latin American Citizens. With LULAC, Brian has been able to practice writing policy briefs and coordinate grassroots efforts for the growing Latino community in the DMV area.
When he is not in Georgetown, JSI, DiG, or LULAC, you can find Brian coaching fitness classes in his neighborhood. Brian brings charisma and candor to the new DiG e-board. He is excited to grow the organization and hold Georgetown University accountable for their commitment to Diversity, Equity, and Inclusion.
What is your role at DIG, and what inspired you to get involved with DIG?
I am the President of Diversity and Inclusion @ Georgetown University (DiG) Initially, what inspired me to get involved with DiG was during orientation. The very first interaction I had with another student–Elizabeth Pantaleon (MSFS '22)– at Georgetown, she looked like me, and she was the President of DiG at the time. She spoke to the entire incoming class, which solidified in my mind that this person is involved in this student organization, she has leverage and is in a leadership position. I liked what she had to say, and I thought, "Oh, I have experience in this, and I can leverage that here so why not?" Anytime there is a leadership opportunity within a skillset that I possess, I immediately try to see if I am a good match for it. I was open to the challenge [of transferring my skill set] from the private sector to an academic space and seeing what that would look like.
Georgetown has been vocal about DEI capacity building, and what they hope to do in terms of addressing pervasive inequities on our campus. When I met Elizabeth, I decided this is what I wanted to do (to promote the DEI evolvement at Georgetown on my end). DiG is the one organization I have selected to focus on and am I am very happy I did so.
You mentioned having professional experience promoting DEI. Can you talk about that?
I work in the international division at John Snow Inc, a public health consulting firm that promotes health equity and access. Health is a privilege, and it is also an equity issue and an inclusivity one. The company was designed within the realm of DEI without making a distinct connection. When the racial "re-awakening" was happening in the US back in 2019. Racial inequities have always existed in the US, but this time, JSI employees demanded a call to action from our company's leadership to ensure JSI unlearns systems of oppression that have been institutionalized. If we, as a public health consulting firm, are meant to help communities who have difficulty accessing healthcare, we need to comment on what's happening here (US) and how we are analyzing ourselves. We need to identify how we indirectly perpetuate inequities and exclusivity and assess how we will address that. There was a call for a task force to design an action plan to make JSI an anti-racist organization. This included an analysis -a self-reflection- of what is happening within the organization, who we are retaining (in terms of staff), who is moving on to leadership roles, what our funding looks like, and how we can deconstruct oppressive structures to truly call ourselves champions of promoting diversity, equity, and inclusion?
In doing this kind of analysis, you start to unpack all the things that are a part of our society that we are conditioned to push. It seems so simple that in focusing on who's making decisions, we should consider who [these decisions] are most affecting and why these individuals aren't a part of [that process]. Yet, because of institutionalization, it is taking more effort to unlearn, deconstruct, and fix all of these systems.
How do you work to promote DEI in your personal life?
I navigate this world as a brown, queer person. I am more hyper-aware of my intersections and how others perceive me. Especially because I hold some power and privilege in some spaces and identities, but in most of them, I don't. The more that I learn about what it means to be anti-racist, what it means to be equitable, and to promote inclusivity, the more I look back and reflect on past events. Previously, I was part of the Diversity and Peer Network for Peace Corps. Peace Corps was experiencing issues where only a certain type of identity was completing the full two-year service. It was mostly white men because the system was designed for them. Why was it that volunteers of color and women terminated their service at a higher rate? Dissecting these issues with the proper data and the proper information is eye-opening to see.
I became involved with DEI because of the identity that I possess and my  desire to learn and understand these issues. It's now very second nature to me. It's easier for me because I am on the receiving end of many issues of oppression, like microaggressions. But, I also possess a lot of power and privilege. I am a male. I am strong and able-bodied. Sitting in these things together, I can figure out what I'm doing and what I think equity looks like. I can explore that with others like me and engage with others not like me to assess how I make space for those that need it.
In your opinion, what has Georgetown done well in terms of DEI initiatives, and what can be improved?
In my view, it is very much possible that we can get on track faster to properly serve the students and prepare them for the world in front of them with the right resources and with an equitable lens. Georgetown has name recognition; this identity and elitism inherently mean "exclusive" and not "inclusive." Seeing how that plays out within our campus culture is very interesting and informative. Georgetown is being more forward and active in trying to get minority representation among its students. But, when you combine that with other students who have this identity and want to perpetuate this elitism, this creates a dynamic that Georgetown can still work to develop and cater to so that everyone can have the best collegiate experience.
Coordination could also be improved. Many student organizations on campus are active and look at the world from a specific perspective. Students involved in this conversation or who find these topics interesting are involved in this capacity building. So many conversations can be very relatable and overlap, yet they are not being communicated across the board. There's no emphasis or push for communication to happen across groups. Suppose Georgetown is serious about having diversity, equity, and inclusion as a pillar. In that case, it needs to be backed up with resources and well-understood processes led by leaders within this field and with people from those communities to be a part of the decision-making process and leadership. Those who are part of leadership must also understand that, if representation is missing in their leadership decision-making circle, then they may need to relinquish some power to create space for others. More people need to develop their DEI lens and see this process as an ongoing experience rather than completing a quarterly online training program.
If we want to not threaten those in power but want them to create more space for others to be involved, the question is, how can we do this? I think this needs to be further dissected and discussed at Georgetown. A great way to do that is to consult your students. We are more connected to the world due to globalization and technology and have a more developed vocabulary than some Georgetown DEI leaders. I think there is a lot of power that students can have, and they are the ones who make Georgetown run. Students' involvement, visibility, and shared accountability with Georgetown leadership are essential. These accountability measures must be made visible to the students as they are most affected by them.
What can we expect from DIG this upcoming year to help promote more inclusivity across campus?
The American-centric viewpoint and context of DEI are very race-focused. Unpacking this is our goal. Half of the DiG e-board are non-American students from all over the world. It's amazing to have this new team. In our first meeting, we discussed looking at DEI outside of race and decentering the American perspective.
In my experience, whenever we have conversations around DEI on campus, it's mostly American students or students raised in the U.S. who have a really deep understanding of U.S. culture. I hadn't realized that before. But DEI is so much more than just a race-based conversation. DEI issues can focus on class, religion, gender and much more. DEI issues are regional, cultural, and tribal. There are so many angles to be assessed within DEI.
DiG will be doing a conveners initiative and partnering up with Student Affairs and the Graduate School of Arts and Sciences to establish a certificate or recognition of students who do this capacity building–across any realm, not just race-based issues. We want to recognize those students who have learned a lot and built up their competence and understanding of DEI issues. Our assistant director has expressed their support for this.
DiG needs to coordinate the events and initiatives of the various DEI-focused organizations across campus to find more connections and synergies. We want our approach to generate a more powerful message to leadership.
Some topics we will address this upcoming year include:
• How can we navigate DEI discussions across generations?
• How can you create a systematic approach to measuring DEI accurately and correctly assessing the impact of initiatives?
• Unpacking and deconstructing Georgetown University's elite identity. How has Georgetown's past historically perpetuated systems of oppressionI? What can we do about this today?
• Changemaker fatigue: when it comes to DEI, there will be frustration, anger, and sadness. But how can we find liberation and joy while recognizing these negative emotions? How do we ensure sustainability within ourselves? These are tough questions.
How can students get more involved in promoting DEI and learn about DIG activities?
Students can check out our website. All previous activities from previous years are recorded and posted there.
We plan on hosting convener programs; however, we've acknowledged an oversaturation of similar events. We will host a few events and strategically connect with other organizations. We also want to promote the connections and coordination efforts of other organizations. For example, we would not do an event on gender-specific discussion when we know that GWIA, Georgetown Women in International Affairs, is doing one already. Instead, we would collaborate and promote with them.
Our social media is always active. We have two great communications chairs from SSP and the Latin American Studies program. They are constantly reposting and resharing posts from our network. Check it out.
Students don't necessarily have to find out what DiG is doing to build capacity and learn for themselves. These conversations around DEI are happening left and right. It takes self-recognition and what you represent, how you see yourself, and how you'd like to see yourself. Once you're there, we can be a part of great things and conversations.
The end goal is for us to have this developed lens. Ultimately, we are all in grad school to prepare ourselves to be the best employee and hold employers accountable when they are perpetuating systems of oppression.
Any other advice for those who hope to promote DEI at Georgetown and their broader communities?
I just want to reiterate that self-reflection, understanding, and internalizing what people represent in our society are important. Know that there is a dynamic that people on our campus experience when you are the first in your family to enter grad school and when you are the only person of any marginalized "ism" in the classroom. It's super important to know truly what your intent is and the impact of it.
---
About DiG:
Diversity and Inclusion (DiG) is a university-wide student organization that convenes and trains DEI (diversity, equity, and inclusion) student leaders, builds a community, and advocates for a more equitable and inclusive Georgetown University. DiG aims to cultivate culturally competent leaders to further develop their DEI "lens" for their personal and professional capacities across disciplines. DiG has several resources and events supporting discussions on challenging systems of inequality and encouraging action for DEI issues.