MSFS is delighted to announce Kala Hagen as the 2020 recipient of the SoldierStrong Scholarship. Kala is the fifth recipient of this endowment, a partial-tuition scholarship designated for a U.S. veteran enrolled in the MSFS program.The scholarship was established in 2015 under the leadership of SoldierStrong co-founder and Chairman of the Board Chris Meek. We had the opportunity to speak with Kala and hear about her journey that brought her to MSFS.
How does it feel to have been awarded this scholarship?
I feel incredibly honored and humbled to have been selected for this scholarship. I really admire the work that SoldierStrong does to help veterans, so for them to choose to invest so significantly in my education means a great deal to me.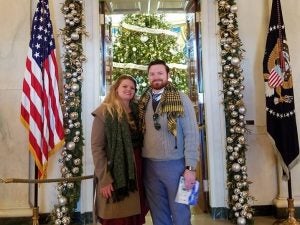 How do you think education offers veterans who return from service abroad an opportunity to provide for themselves and their families, and thrive in civilian life?
I can't speak for all veterans, but I think education is invaluable to everyone and I believe that it can be especially so for veterans. Transitioning back to civilian life comes with a unique set of challenges, and there is no one way that's right for everyone, but education can open so many doors. It provides a way to put some credibility behind the skills that the military instills. Veterans can come away from their service with a wealth of knowledge and experience, but that very rarely translates well into the civilian world. So much time is spent training, but there are no recognized credentials earned, so you essentially have to start over. This is especially true in the enlisted community where a great many do not hold undergraduate degrees and thus receive very little credit for their work upon separating. Alternatively, if you don't feel like the career path the military set you on is one you want to continue, education also gives veterans a way to pursue a different one. Having access to the enriching experiences a university setting, especially such prestigious institutions as Georgetown, can afford gives us the ability to truly excel. This is what makes programs like the G.I. Bill, Yellow Ribbon, and SoldierStrong scholarships are so important.
From the different institutions that SoldierStrong has partnerships with, why did you choose Georgetown MSFS?
For me, MSFS here at Georgetown was really the only option. From the time I started planning for my transition out of the Navy, MSFS was my first choice and honestly it's still kind of hard to believe that I'm actually here doing this. SoldierStrong partners with some amazing schools, but what set Georgetown apart for me was their focus on service. My time in uniform may be over, but it is very important to me that I continue to serve. Seeing that value, as well as cura personalis, woven into the very fabric of MSFS really stood out to me, and I knew I wanted to be a part of it. A friend and former classmate at the Defense Language Institute also came through the program just ahead of me, and hearing how well she spoke of her experience here and seeing how many amazing opportunities she's been able to seize was truly inspiring. All of that, in addition to Georgetown's outstanding reputation, both in general and as a veteran-friendly school, really sealed the deal for me.
How do you think your military experience has prepared you to pursue a degree in international affairs?
At its roots, international affairs is about communication, fostering relationships, and credibility. That's an incredibly simplified viewpoint of course, but I've learned the importance of all of these things, and seen the fallout when they fail, throughout my time in the Navy. That's a little abstract, but I also entered the Navy to become an Arabic language analyst in early 2011, so I watched the Arab Spring happen from my classroom with people who used to live and still have family and friends in those countries. I learned so much more than a language over that 15-month long course. I learned how to step out of my own shoes and consider other perspectives. I learned that the decisions made by people with power often have the greatest impact on those who have the least say. I learned that I wanted to be a part of the solution to these issues. Probably most importantly though, I learned the value of patience. So I think that my military experience has laid a really solid foundation that I can build upon through MSFS.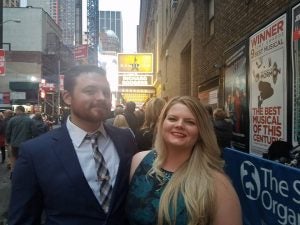 What do you intend to concentrate on while at Georgetown? What are your interests in your studies?
I want to concentrate on international development with a regional focus on Africa and the Middle East. I spent so much time working in the security and defense sector, and that is important work, but now I really want to take a more proactive approach. While I have this unparalleled opportunity to study here at Georgetown, I want to learn everything I can about peacebuilding and reducing the factors that allow terrorism and extremism to take root.
What are your plans after graduating from Georgetown? 
After graduation, I would love to work for the State Department or USAID, but really anything that allows me to make a difference is where I want to be.