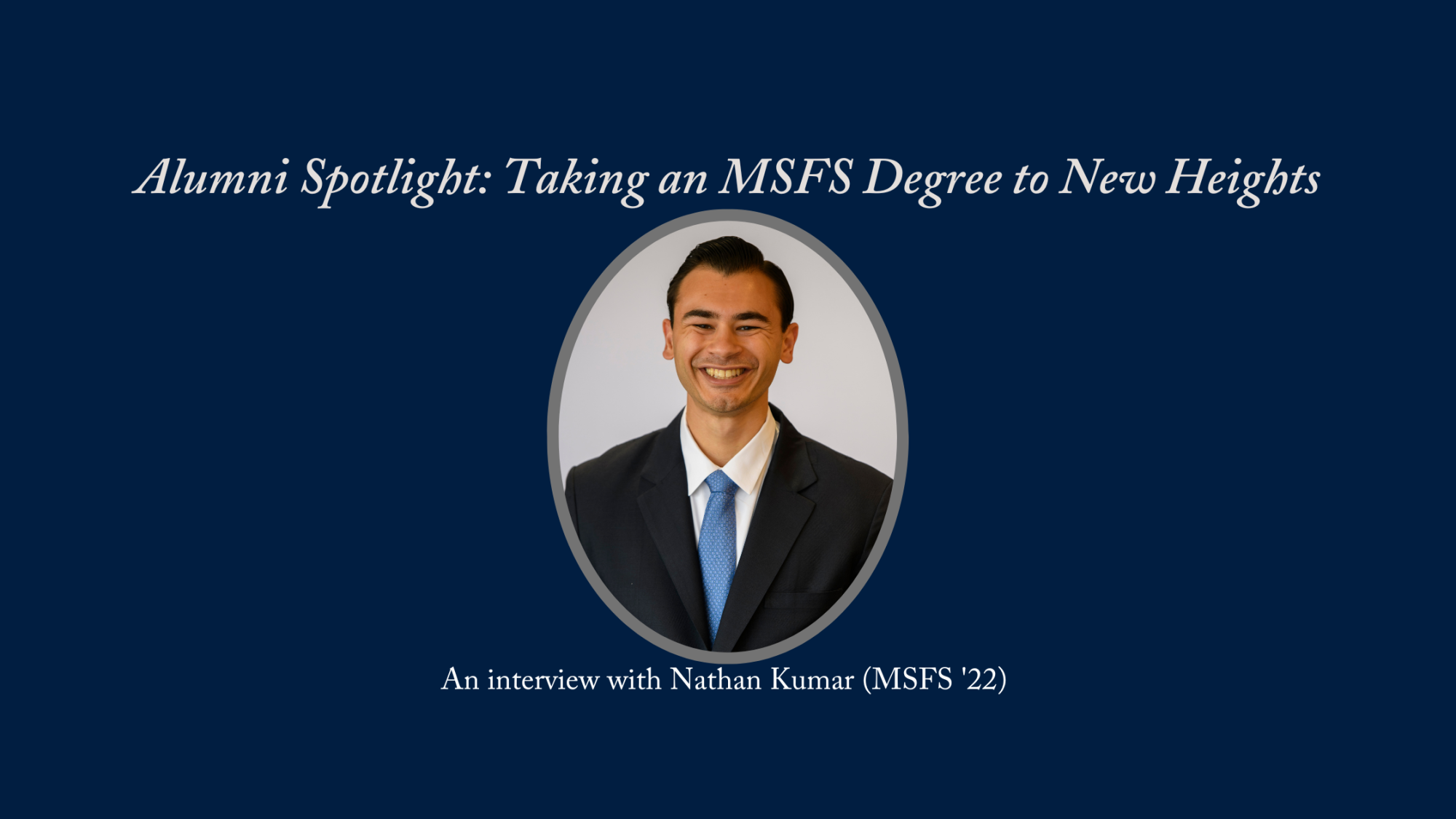 Category:

Alumni Spotlight, Featured News, News, STIA
Title:

Alumni Spotlight: Taking an MSFS Degree to New Heights
Date Published:
October 20, 2022
Despite our common association with the U.S. Foreign Service due to our name, an MSFS degree can be incredibly versatile and lead to a whole range of careers outside of foreign service. We spoke with a recent alum who is taking his MSFS degree to whole new heights: outer space! Nathan Kumar (MSFS '22)  began a role at NASA this past summer. We spoke with him about his experience and how MSFS helped lead him there.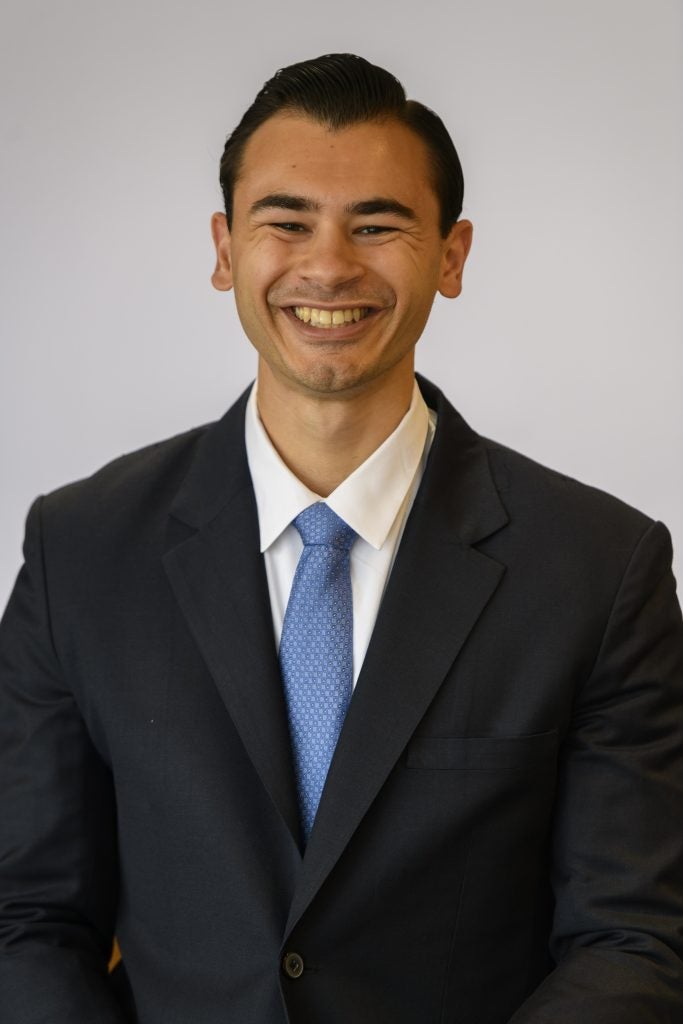 Nathan Kumar (MSFS '22) graduated last May with a concentration in Science and Technology in International Affairs (STIA) and a Certificate in Diplomatic Studies. His studies focused on global health diplomacy and U.S. science and tech policy. He previously worked as a Functional Consultant at Unison, supporting federal acquisition management software platforms, and was a Fulbright Scholar teaching English in Gresik, Indonesia. During his studies, he held several internships, including as a Market Research Assistant with the Department of Commerce's Rural Export Center, a Global Health Intern with the Department of Health and Human Services Africa Regional Office, and a summer intern with the Office of International Labor Affairs at the State Department.
What do you do in your current role at NASA?
The overarching goal of the office is to support the agency in any international efforts, including travel planning, assisting coordination between international researchers, and overall strategy regarding overseas partners. Our office has attaches, in Paris, Tokyo, and regularly travels to many other locations to engage with our international partners. I cover aeronautics, so I cover these areas as they are related to aeronautics.
What is the most fascinating part of your job?
Everyday there is something new. It is a very interesting time in the sector. There is an increasing cross-over with industries, such as SpaceX or Blue Origin. Seeing how all of these international and industry actors interact has been really rewarding. These interactions with our international partners and building a mutually beneficial relationship is a pretty unique thing to see, especially in a competitive industry such as aeronautics. We always strive to keep the US industry competitive and collaborate in areas such as safety and sustainability. Personally, I find this mission to be really rewarding and fulfilling.
You mentioned sustainability. How does NASA or your department work towards sustainability?
Aeronautics has a sizable focus on sustainability. Aviation is a fairly large contributor to carbon emissions, so lot of our focus is on reducing that. This includes making current aircrafts more efficient reducing wind resistance or making the aircraft lighter. It can also include increasing the efficiency of air traffic management to reduce time spent taxiing and designing more efficient air traffic routes. We also look into emerging technologies in sustainable fuels such as hydrogen or electric-powered aircraft. NASA is currently working on an aircraft called the X-57, which is a fully electric vehicle. It's a starting place for progress in transitioning commercial airlines to electric-powered aircraft. NASA really focuses on investing in emerging technologies in emerging fields so they can be adopted by industry. It's really rewarding to focus on this incredibly important area and doing ground-breaking research to push the boundaries of the field.
Do you think the space industry has a role to play in international politics and diplomacy?
NASA was born out of the space race and competition with the USSR. So global politics are not entirely removed from NASA's history. But NASA largely focuses on science for science's sake. But there certainly are diplomatic roles NASA and the space industry can play. For example, at the first launch attempt for Artemis 1 (the first rocket in a series that will send Americans back to the Moon and hopefully to Mars) there were over 20 delegations from around the world to watch the rocket take off. This includes representatives from Columbia, a delegation from Rwanda, and officials from the European Space Agency and Germany. Now more than ever, countries around the world are interested in space. So it's an exciting time to work with many of these new potential partners to find mutually beneficial collaborative opportunities. 
Upcoming projects?
Artemis, of course. The first launch of Artemis will be unmanned and hopefully will take place before the end of 2022. In the next few years, we're working to send American astronauts–including the first woman and first person of color–back to the moon, which hasn't happened in almost 60 years. This is perhaps the biggest upcoming project. Even if I wasn't working at NASA, I think this would still be an exciting thing to witness.
In terms of my specific portfolio, we are currently working on another test place–the X59–which is designed to create less noisy sonic booms. The hope is that this experimental plane will produce a quieter, high-speed plane that will improve flight efficiency and reduced flight times.
How did MSFS prepare you for this role?
I do not have a background in aviation or space policy. Regardless, many of my classes at Georgetown helped prepare me for this role. Skills such as memo writing and synthesizing technical data into easily digestible information were important skills that I regularly employ in my position. My STIA concentration gateway class in particular was very informative, as was a course on U.S. Military and Diplomatic Statecraft.
The cohort was incredibly helpful in searching for internships and work. One of my internships at the Department of Commerce was directly referred to me by a classmate.
Everyone [at MSFS] shares their interests and connections openly and freely. So the cohort can be incredibly useful in helping you search for internships and pointing you in the right direction. Many of my classes prepared me for the day to day work, equipping me with a strong command of the writing style and teaching me how to comport yourself when working in that type of environment.
What were the highlights of your time at Georgetown?
Theresa Sabonis-Helf is a fantastic professor, perhaps one of my favorite at MSFS. She was really helpful and engaging in the classroom and made sure all students were able to contribute to the class in their own ways. She was great. Generally, getting to know the cohort, everyone's background and interests, was really helpful. Especially with so many international students and student with backgrounds in the military–which I previously was unfamiliar with–was also really informative. I really enjoyed getting to know my cohort over those two years. 
What's one piece of advice for current or prospective MSFS students?
To some extent, you have to develop a plan for your time at MSFS. But you should also take some time to find classes outside of your main focus. For example, if you're interested in the MENA region, try taking a course on East Asia or Latin America. If you're into great power competition, also try to take a course on emerging markets. Taking time to explore courses outside of your realm of immediate knowledge is great for expanding your bubble of knowledge. It may come in handy when you start working. Even if you have a fellowship or are very focused on entering a specific career, this can be immensely helpful. Many of my colleagues have had non-linear paths to NASA. Many employers look for broad backgrounds and ability to handle multiple challenges and situations.