Al-Moataz Shikhy
Al-Moataz is a Libyan student in MSFS program concentrating on International Development. He has over 10 years of experience in public sector, international organizations, and non-governmental organizations within country experience in Libya and the US. He holds a master's degree in public procurement from University of Rome. He was a team member of the International Cooperation Department in the Ministry of Planning which was responsible for all kinds of development cooperation with the international community in Libya. He also worked at World Bank Group in Health and Social Protection. He was a key player in the first Health Reimbursable Advisory Service program signed with the Libyan government.
What was your contribution to the Fragility Forum?
I explained about the current context in Libya and how political fragmentation in the country and the civil war impacted youth unemployment, and how the government legalized unemployment by offering low salary for youth working in the public sector. The education system in Libya leaves youth unprepared for the labor market. Due to unemployment, many youth felt compelled to join armed forces looking for a secure income, stability, and empowerment that came with being part of an armed group.
I explained the consequences of this and how the youth decided not to wait for a solution from the government, but rose up to create their own solutions. This includes civil society's role in this. I worked with the government and NGOs to combat this problem in Libya. NGOs and civil societies created capacity building programs–soft skills programs that allowed youth to develop skills for employment. They also facilitated funds for SMEs.
How does this connect with what you hope to do after graduating from the MSFS Program?
I am focusing my studies on International Development (IDEV) and hope to take what I learn to contribute to making changes in the public sector in Libya. With this increased knowledge in international development, I hope to contribute to capacity building in Libya–since the issue is lack of capacity and not resources–and find better ways to prepare youth for the labor market. I would like to be part of building good governance and helping to reduce corruption.
How has your education at Georgetown MSFS helped you learn more about these issues or helped you feel more prepared to deal with them?
It has been a good opportunity to be a part of MSFS and the have the opportunity to build a stronger background knowledge in international development. I want to use this education contribute to enhance development in Libya. I plan on going back to Libya and take what I learned here at Georgetown MSFS to inform my work.
Why did you choose Georgetown?
Because it's Georgetown [laughs]. No, from my personal experience, most people working in the developmental sector were Georgetown students. When I moved here in 2018 to work for the World Bank, I discovered Georgetown and this concentration (IDEV) and I was interested. DC is the main hub of international development experts, so I felt that DC is the right place for those interested in international development.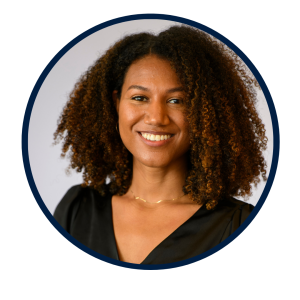 Katie-Meelel Nodjimbadem
Kaite is a Chadian-American from El Paso, Texas. She is in the International Development (IDEV) concentration. Her previous background is in journalism and she was co-deputy head of fact checking at The New Yorker and was a staff reporter at the Smithsonian magazine. Between 2017 and 2018, she was a Fulbright English Teaching Assistant in Abidjan, Côte d'Ivoire, where she taught at a secondary school, volunteered in the U.S. Embassy's information section, and created a media literacy course for adult learners. She was the recipient of the 2021 MSFS Futures Scholar award.
How do you hear about the Fragility Forum/how did you get involved?
I was approached by Johan Bergman and Shanta Devarajan (the Chair of the IDEV Concentration and DEI). Since I have a background in journalism, I was asked to be the moderator.
I did not grow up in a fragile state but I have a strong personal connection to one. I am half-Chadian. Chad, as you may know, is a fragile state which deals with similar issues around unemployment as the countries highlighted in the panel. So the topic of this session was really close to my heart.  
I also have experience in Cote d'Ivoire, where I observed a lot of similar issues to those the panelists talked about.
What of the panels discussions resonated with you?
Moses's discussion about his peers in Uganda having inspiration and ideas but lacking capital really resonated with me. Also, the lack of government support which Rawan and Moataz spoke about really struck me. These situations can be easily written off because of the lack of state capacity, but that's unfair. How can young people be successful in spite of their government systems?
What are your personal studies in Georgetown?
My regional interest is West and Central Africa and my thematic interests are democracy and governance, conflict and fragility, migration, and economic development.
Why did you choose Georgetown?
I chose Georgetown because I wanted a program that would complement my journalism background well. Additionally, the opportunity to learn from experienced practitioners in DC was attractive to me. I also liked the smaller cohort size and how international it is. It really adds to the quality of education to be in a classroom with people from all over the world.
I think my journalism experience helped prepare me for this role as moderator. It was definitely a new experience for me to do it live and on camera. But I think there are a lot of transferable skills in journalism to moderation that helped me.