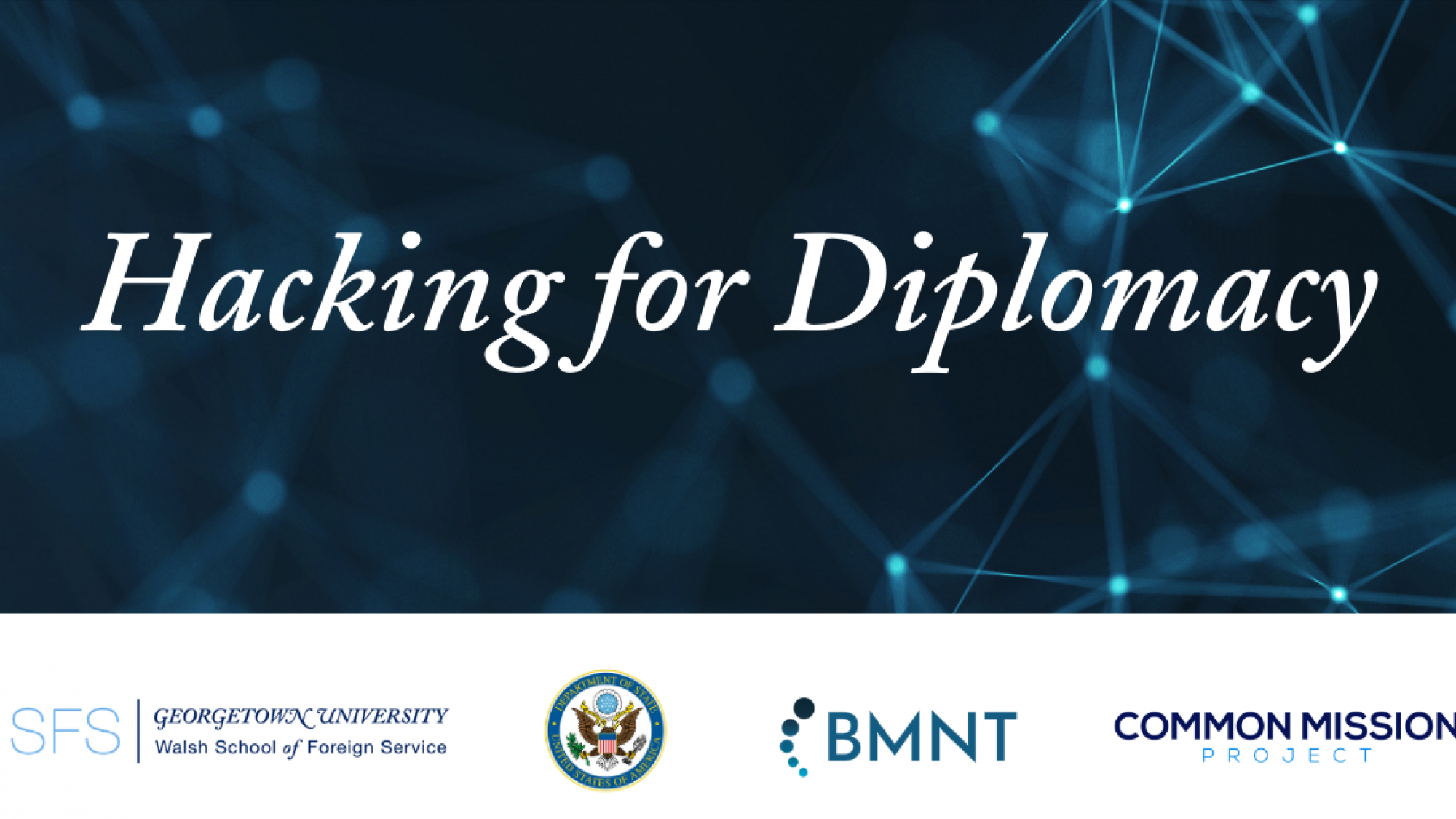 Category:

Featured News, News
Title:

Georgetown University's School of Foreign Service launches Hacking for Diplomacy course
Date Published:
February 5, 2021
Creating solutions for foreign policy challenges through innovative learning.
WASHINGTON – Georgetown University's Master of Science in Foreign Service Program is pleased to announce the launch this month of Hacking for Diplomacy, a course intended to speed the creation of solutions for pressing foreign policy issues.
The class is a partnership among  Georgetown University's Walsh School of Foreign Service, The Department of State Bureau of International Security and Nonproliferation (ISN), BMNT Inc. and the Common Mission Project (CMP), representing the latest in a growing trend in mission-driven entrepreneurial education.
The program is modeled after Hacking for Defense® (H4D), a national academic program sponsored by the Department of Defense's National Security Innovation Network, and taught at 44 universities nationwide. H4D and its sister programs like Hacking for Diplomacy represent a new platform for national service, teaching teams of university students how to use modern entrepreneurial tools and techniques to solve critical real-world problems at startup speed.
Throughout the semester, graduate students from the Georgetown School of Foreign Service and Georgetown Law will solve such critical challenges as identifying a way to help customs agents identify fraudulent documents more efficiently and developing a way to monitor vehicular traffic in North Korea better to ensure compliance with UN sanctions.
"Georgetown Entrepreneurship is thrilled to partner with BMNT, the Common Mission Project, and the Department of State to expand mission-driven entrepreneurship course offerings at Georgetown University and the Consortium of Universities of the Washington Metropolitan Area. We see entrepreneurship as a powerful platform for teaching empathy, leadership, and evidence-based decision-making – skills the world needs now more than ever. Our students are excited for the opportunity to develop innovative solutions to real-world challenges for the benefit of national security," said Shye Gilad, adjunct professor and Entrepreneur in Residence at Georgetown's McDonough School of Business.
Gilad, who also teaches H4D at Georgetown, will teach Hacking for Diplomacy with Tom Nelson, Director of BMNT's Washington, DC, office.
Tassos Coulaloglou, Regional Program Advisor for ISN, said of the class: "The emerging challenges we face to stop the spread of the world's most dangerous weapons require fresh and innovative thinking. The Hacking for Diplomacy program gives our bureau the ability to leverage the diverse skill sets of talented university students to provide real-world solutions to critical national security problems."
For the Common Mission Project, the launch of Georgetown's Hacking for Diplomacy class "allows us to expand our support to mission-driven entrepreneurs solving national security challenges and inspiring the next generation to serve our nation through mission-driven entrepreneurship," Alex Gallo, CMP Executive Director, said.
About the Department of State Bureau of International Security and Nonproliferation: Preventing the spread of WMD, delivery systems, and advanced conventional weapons capabilities — and rolling back such proliferation where it has already taken root — is the mission of the Bureau of International Security and Nonproliferation (ISN). In close collaboration with other bureaus within the State Department, other U.S. agencies, and a diverse range of international and non-governmental partners, ISN tracks, develops, and implements effective responses to proliferation threats and shapes the international security environment to prevent their recurrence. Visit https://www.state.gov/bureaus-offices/under-secretary-for-arms-control-and-international-security-affairs/bureau-of-international-security-and-nonproliferation/
About Georgetown University's M.S. in Foreign Service program: The Walsh School of Foreign Service (SFS), founded in 1919, is a premier school of international affairs. Housed within the Walsh school, the Master of Science in Foreign Service (MSFS) is a professional degree program grounded in the core values of leadership, creativity, ethics, service, and inclusion. The interdisciplinary curriculum provides a foundation in international relations, economics, and history to prepare graduates for success in careers across various sectors. Visit msfs.georgetown.edu
About BMNT, Inc.: BMNT is an internationally recognized innovation consultancy and early-stage tech accelerator that is changing the future of public service innovation. Founded in Silicon Valley, BMNT has offices in Palo Alto, Washington DC, Austin, London, and Canberra. Visit www.bmnt.com
About the Common Mission Project: The Common Mission Project (CMP) works to educate, connect, inspire and support mission-driven entrepreneurs around the globe. CMP is the non-profit partner of BMNT, Inc. Visit www.commonmission.us/
To learn more about the Hacking for Diplomacy course and the Hacking for Defense program, please contact:
Rebecca Caro, M.S. in Foreign Service program, rebecca.caro@georgetown.edu
Terri S. Vanech, the Common Mission Project, tvanech@commonmission.us