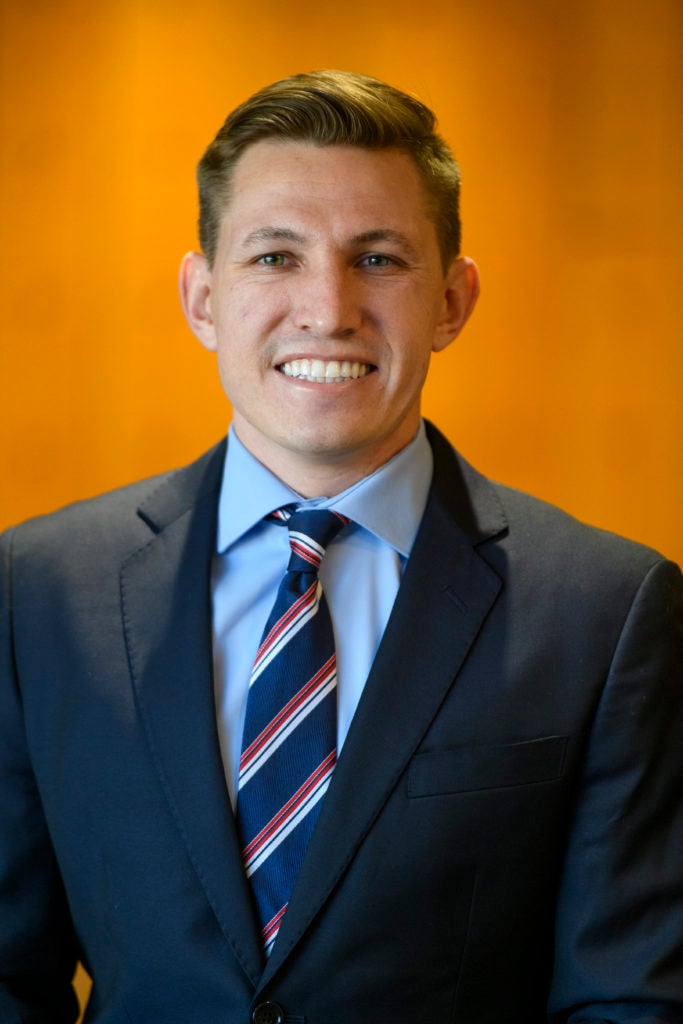 Philip is the fourth recipient of SoldierStrong, a partial-tuition scholarship designated for a U.S. veteran enrolled in the MSFS program. The scholarship was established in 2015 under the leadership of SoldierStrong cofounder and Chairman of the Board Chris Meek. We had the opportunity to speak with Philip and hear about his journey that brought him to MSFS.
Can you introduce yourself? What are your personal, academic, and professional interests?
My name is Philip DeTurck. I am originally from the San Francisco Bay Area and spent a few years living in Boulder, Colorado growing up. I am a Naval Academy graduate, a former Navy officer, and a current first-year student in the MSFS program.
In the MSFS program, I plan to continue my studies of East Asian political and security issues while broadening my perspectives and building expertise in technology, finance, business, and development.
In my free time, I love to travel. My time in the Navy allowed me to travel all over the world to places I would never have imagined being able to go to before I joined the Navy. I love seeing new places, learning about different cultures, and listening to the stories of those I meet along the way. I also love wildlife photography and recently got into freediving.
How has your experience in the military shaped your interests in foreign policy?
I had a number of roles in the Navy where I was able to get firsthand experience working in American foreign policy which solidified my interest in the area. After graduating from the Naval Academy, I was forward deployed to Japan for two years. As a division officer onboard the flagship of the U.S. Seventh Fleet, the U.S.S. Blue Ridge(LCC 19), I had the opportunity to engage with U.S. allies and partners around the Pacific as we traveled around Asia building ties with countries in the Indo-Pacific region.
My next role as a training officer for the United State's 8-forward deployed destroyers in Japan also gave me an insight into the world of foreign policy. As well as managing a team deployed on destroyers across the Asia-Pacific, I also worked on important international issues such as ballistic missile defense and freedom of navigation operations contesting excessive territorial claims in the South China Sea. I also worked closely with our allies to plan international exercises involving the navies from Japan, South Korea, the Philippines, and Australia.
Building ties with our allies and partners was one of the most rewarding professional experiences for me and an area where I felt I was able to make a difference. I continued to work with members of foreign militaries when I managed an international training program for foreign military officers in Coronado, California. The program, while primarily focused on amphibious warfare and multinational interoperability, also incorporated the promotion of democracy, human rights, and humanitarian assistance operations. Working with foreign military leaders to promote these issues in their countries cemented my view of the United States' central role as a leader in the world and the importance of utilizing diplomacy to promote a freer, more stable, and safer world.
How has your experience in the military shaped your interest in pursuing a graduate program in Georgetown?
The important experiences I had in the military have shaped all aspects of who I am, including my interest in working in foreign policy and my belief the value of service. My military experience has been invaluable, but still only gave me a limited view of how the world works. I always knew that I wanted to pursue a graduate degree to broaden my knowledge and gain new skills and perspectives. Georgetown, and MSFS in particular, felt like an excellent fit for me because of its rigorous, professionally-focused program and the opportunity to work with incredible students and professors will prepare me well for transitioning to a career outside of the military.
What most excites you about joining the Georgetown community?
I have been awed by the skills, knowledge, and experience of everyone in the Georgetown community. Having access to professors and mentors who are top practitioners from the public and private sectors as well as working with impressive classmates who bring their own perspectives and experience has brought what is already a vibrant and rigorous academic experience to a new level. At MSFS, even outside of class, there is always an interesting lecture or event to go to on almost any topic imaginable. I am constantly looking forward to learning from the incredible people who work at Georgetown and those who come to speak and share their knowledge and experience.
What are your long-term career goals?
Like many in the MSFS program, service is an important part of what I would like to do as I continue my career. Right now, I am hoping to pursue a career at the State Department but I am also taking advantage of the many opportunities at Georgetown to explore other opportunities in the government and private sectors to see the differences that people are able to make in each field.