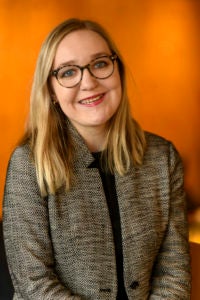 MSFS student Alina Clay (MSFS '20) first discovered her interest in international affairs in the summer before her senior year of high school. "Up until that point, the only exposure I'd had to IR was learning Spanish at school," she remembers. In order to expand her educational experience before applying to college, Alina attended a summer program at the Governor's School for International Studies at the University of Memphis, where she took a series of college-level international relations courses and studied Bengali. She also spent two and a half weeks in China as part of the Chinese Summer Bridge Program.
"That summer was very transformative. I think those two experiences hand-in-hand convinced me wholeheartedly that IR is definitely where I'd be going in the future." Finding this passion for international affairs would lead Alina to work in countries around the world including Estonia, Latvia, and Peru and would ultimately see her enroll in the MSFS program, where she is a Thomas R Pickering Fellow. As part of her fellowship, Alina will embark on a career in the U.S. Foreign Service when she graduates.
During her undergraduate studies at the University of Tennessee, Knoxville, Alina pursued a degree that was broad and global in scope. As a student in the university's College Scholars program, she was able to design her own interdisciplinary bachelor's degree and she majored in Policy, Politics, and Gender, with a focus in Latin America and Eastern Europe.
However, while her undergraduate work explored regions across the world and involved her using her Spanish language proficiency to conduct research in Peru, Alina was always especially interested in Eastern Europe, not least because she has Eastern European heritage. The summer after her first year, Alina took an eight-week Russian language course at Middlebury College. "I think by the time I entered college I understood that I needed to learn Russian to better understand my ancestry, to better understand where it was that I came from. Piecing all of that together was really transformative for me."
In the midst of her undergraduate studies, Alina took a year out to pursue a Master's program in E.U.-Russian Studies at the University of Tartu, Estonia which she followed up with a summer working in Latvia. During her time in these countries, she developed a passion for Baltic Studies that endures to this day.
"The Baltic states are so interesting—the resilience that these three countries have shown since the beginning of time! When you look at these countries' trajectories historically, they've always been conquered by foreign powers trying to get more territory, more resources—Sweden, Germany, the Soviets—and it is remarkable that their languages and cultures have sustained themselves."
After finishing her undergraduate degree, Alina returned to Riga, Latvia on a Fulbright Scholarship. In affiliation with the Latvian Institute for International Affairs, she researched the evolution of the Baltic nations' government and civil society responses to Russian disinformation campaigns. She also worked alongside two Latvian colleagues as the Assistant Manager of a Baltic security strategy project supported by the Jamestown Foundation and the Baltic-American Freedom Foundation. The year-long project explored different aspects of Baltic security cooperation and Alina's team organized stakeholder meetings in the three Baltic capitals. She eventually presented the report from this security project and her personal Fulbright research at the annual Association for the Advancement of Baltic Studies (AABS) conference in 2018.
In addition to her research, Alina became directly involved in civil society work while in Latvia. Through an NGO called the Education Development Center and the U.S. Embassy in Riga, she taught media literacy to high school students and teachers. In a global climate where fake news and disinformation is a major concern for societies, teachers throughout Latvia contacted Alina to ask her to deliver her lessons in their school and she spent much of the final half of her Fulbright Fellowship teaching in rural towns and small cities.
Though Alina now lives in D.C., she is still in touch with many colleagues from Estonia and Latvia and continues to work in the field of Baltic politics and civil society. She teaches an open online course on E.U.-Russian relations, developed by the University of Tartu, that covers the basic tenets of media literacy, the conceptual tools and frameworks that are useful for reading information online or in the media, and how media literacy pertains to relations between the E.U. and Russia. Today, more than 1,100 participants from 99 countries around the world have taken the course and the number of enrolled students continues to rise.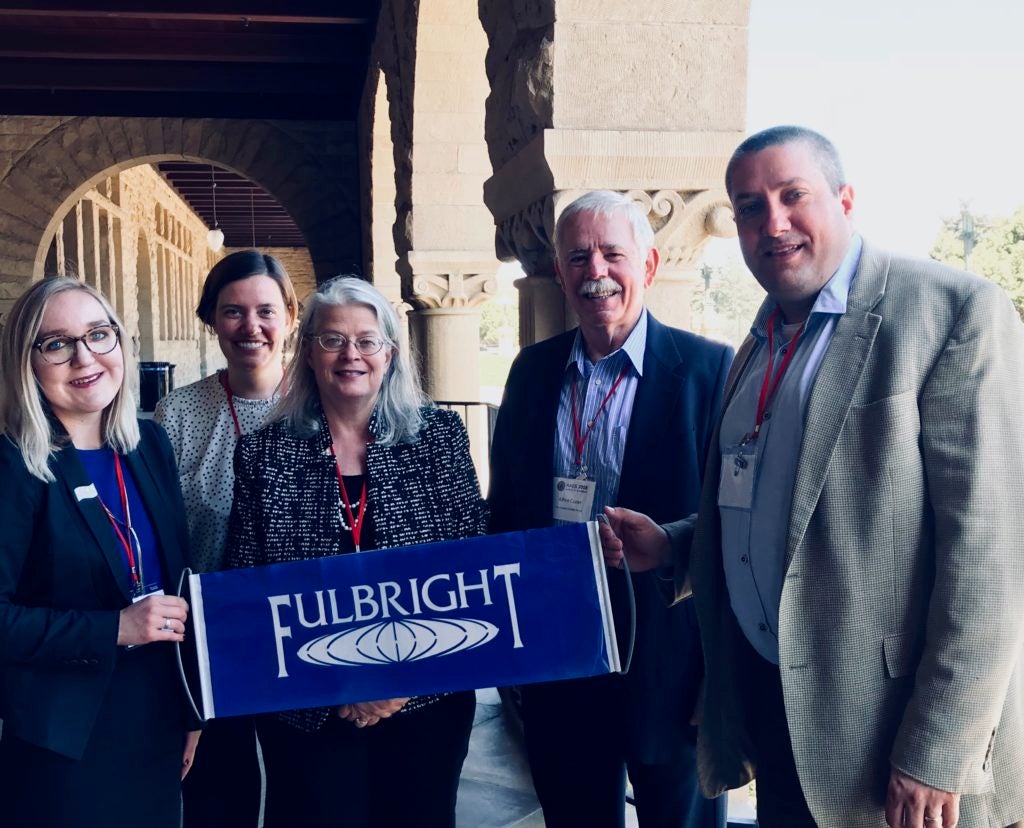 Alina is now wrapping up her first year at MSFS where she enjoys learning from her classmates. Like her counterparts at MSFS, Alina's passion for international affairs is evident in the enthusiasm with which she talks about her work.
"For me, my favorite part of MSFS has been the stories that our peers bring to the table. It's not always evident how rich and how diverse people's stories are until you really sit down with them one-on-one, face-to-face, and just get them talking. And then they will just casually drop the most extraordinary experience in X country with Y person or Y organization, and explain to you their passion and their drive in life. Being surrounded by these people every single day is phenomenal."
With her background in media literacy education and her desire to work directly with communities abroad, Alina hopes to work in the Public Diplomacy career track, or "cone", of the Foreign Service. "What really made me realize I wanted to pursue the public diplomacy cone over the other cones, was teaching those media literacy master classes all over Latvia. I realized just how much I loved engaging with local populations. Not only was I giving them my point of view, my perspective, my information, I was receiving their experiences, their vantage points, what they think of the United States, what they think of Americans. It was incredible. And I think that really captures the work of public diplomacy officers, experiencing that face-to-face contact and learning from others in whatever country you're in."