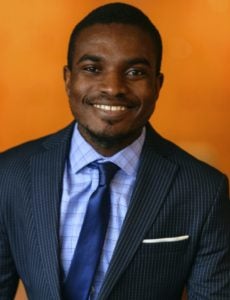 Although he is now a student in one of the top programs for international affairs in the world, for most of his academic and professional career Albert Hudson, the most recent recipient of the MSFS Africa Scholarship, focused strictly on the domestic financial affairs of his home country, Ghana.Albert grew up in Apam, a town in the central region of Ghana, and moved to Accra to study Business Administration at the University of Ghana Business School (UGBS). During his undergraduate studies, he worked hard to prepare himself for a career in the Ghanaian financial sector, obtaining the Ghana Securities Industry certificate in order to become an Authorized Dealing Officer on the Ghana Stock Exchange.
After graduating, Albert took a position as a Research Assistant at UGBS where he supported initiatives to develop the Bus Rapid Transport System in Ghana and contributed research to the Ghana Business Development Review, a report examining growth in the country's business sector. Albert was planning to apply to MBA programs when he visited Togo as part of a church trip. "It was my first time being in a different country. I enjoyed my visit but right after crossing the border, I realized that I was being charged a fee to receive phone calls from Ghana on my cellphone!" Experiencing first-hand the cross-border implications of economic policy piqued his interest in the international contexts of financial affairs. His next work assignment required him to carry out research into financial inclusion in Ghana and other African countries.
Albert's new global perspective encouraged him to extend his project beyond its continental focus: "My curiosity led me to research further, to see what developing countries outside Africa were doing to address barriers to financial inclusion. To my surprise, I found that Bangladesh and Bhutan were making great strides in this area through private sector development."
"I concluded that more traditional forms of development did not have the full capacity to eradicate the hardships that developing countries face and that private sector development work could go a long way to solving many of their problems," he remembers.
Albert began to search for graduate programs that would allow him to explore the intersection of international development and private-sector finance, as well as learning about international affairs more broadly. A mutual friend introduced him to Deborah Ofori (MSFS '19), an MSFS student and fellow MSFS Africa Scholarship recipient. Deborah was pursuing the Global Business and Finance (GBF) concentration at MSFS, a course of study that provides students with the solid grounding in functional, business-related skills of an MBA while also training graduates to work within the dynamic political, economic, and social contexts of international business. His conversations with Deborah solidified Albert's conviction that the GBF concentration at the MSFS program was the perfect graduate course for him.
"The MSFS and GBF curriculum was an ideal fit for my newfound interest in combining development and finance. What's more, being able to pursue this interest while learning from world-class faculty and alongside talented peers made MSFS an unparalleled opportunity."
Now in his second semester at MSFS, Albert has followed his plan to take the GBF concentration. He is enjoying learning from his professors, classmates, and from the practitioners and alumni who regularly visit the program to share their insights about their own fields within international affairs. And he is already looking towards his ultimate goal to work in cross-border infrastructure financing. The ability to study in the heart of D.C. has put him in close proximity to institutions like the World Bank, the IMF, and the IFC—all organizations where he could see himself working someday. For Albert, taking the plunge to take a new direction in his financial career has already paid off: "If I were going through the process of selecting graduate programs all over again, I would still choose MSFS. It goes beyond even what it promises to deliver. The program basically leaves no stone unturned to prepare you to tackle global challenges.
The alumni network and practitioner-taught courses are invaluable. Having topnotch professors, being able to choose courses from across MSFS's three concentrations, and having all these great people with brilliant minds from across the world being your classmates is just awesome. And I can still take classes from the MBA program if I want!"