To celebrate International Women's Day on March 8th, all this week MSFS will be highlighting women in our program's community who strive to further gender equality and inclusion in their professional and personal lives. This piece focuses on the work of Georgetown Women in International Affairs (GWIA), a student-led organization dedicated to increasing the visibility of women in international affairs and developing quality leadership among Georgetown graduate students.The 2019 GWIA Executive Board includes three MSFS students: Carrie Fante, Maria Elisa Dimagiba, and Kate Shafer (all MSFS '20).Carrie serves as Co-President of the organization and helps shape GWIA's programming agenda and budget. She also coordinates with Georgetown Institute for Women, Peace, and Security, a close partner and strong supporter of GWIA. Elisa is GWIA's Community Engagement Chair and is responsible for engaging GWIA with each of the graduate programs at SFS, as well as the other student groups on campus. Kate Shafer is GWIA's Professional Development Chair and is the lead for planning professional development events as well as maintaining GWIA's connections with alumni.Together with the rest of the GWIA Executive Board, Carrie, Elisa, and Kate plan to enhance the SFS experience of GWIA members and connect, empower, and prepare them as future leaders in international affairs. MSFS asked them about GWIA's work and their take on some of the themes for this year's International Women's Day.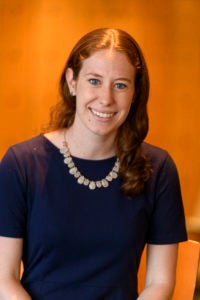 What are some of the initiatives that you undertake as GWIA to ensure female inclusion in the field of International Affairs?
Our members are innately driven, intelligent, and passionate about the field of international affairs—they will succeed regardless of whether or not GWIA exists. GWIA's goal is first and foremost to help prepare members for the unique challenges faced by women and non-binary professionals in a patriarchal field and world. As so much happens through networking in this field and in this town, we strive to provide our members with a multitude of opportunities to network with one another, faculty, alumni, and practitioners. We hold conversations and events exploring gender in international affairs to better prepare our members to maneuver the complex dynamics they will inevitably face in the workplace and to equip our male colleagues with the tools to be effective allies in their careers. We also work to increase our members' fluency in activities and hobbies that are traditionally male-dominated, so they can confidently navigate those spaces when necessitated by their personal or professional lives. Finally, we provide workshops for our members to hone specific skills and site visits for our members to explore a wide variety of potential future careers and employers.
Why is the role of women in International Affairs important in the current context?
The evidence of the need for women in leadership roles, not just in international affairs but in society, is staggering. For instance, women's perspectives and input are critical to creating lasting stability out of conflict. According to the International Peace Institute, when women participate in peace processes the resulting agreement is 35% more likely to last at least 15 years, and a number of studies have found that higher levels of gender equality are associated with a lower propensity for conflict, both between and within states. In business, companies with gender diversity on boards are more likely to outperform their peers. But, despite these statistics, women remain underrepresented in peace processes, in governments, and in the boardroom.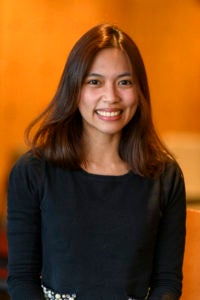 What are the key goals that you have for GWIA this year?
In 2019, we hope to continue providing women with leadership, networking, and professional development opportunities in a more inclusive manner. We're aiming to expand our membership to women and non-binary students across all of SFS's graduate programs and focus more critically on the important role of diversity and inclusion within international affairs—this diversity includes, but is not limited to, race, ethnicity, gender, sexual orientation, socioeconomic status, language, experience, age, military/civilian status, ability, religion, politics, and field.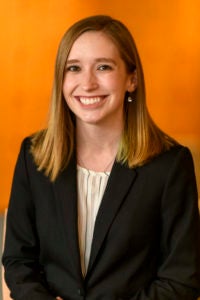 Do you think that approaches to female empowerment have changed over time? Are there areas where we need to make more progress?
While a lot of progress has been made, we still have a long way to go. Female empowerment originated as a way to bring women into the discussion and one change we have seen is that it is now turning greater attention to the opportunities and treatment women receive in that discussion. Both aspects remain important components to achieving gender equality, and both provide opportunities for continued improvement.UN Women's theme for International Women's Day this year is "Think Equal, Build Smart, Innovate Change." The theme focuses on innovative ways to advance gender equality and the empowerment of women, particularly in the areas of social protection systems, access to public services, and sustainable infrastructure.
In your opinion, what are the most important ways we can empower women to ensure gender equality globally today?
Removing barriers to women's participation is critical to ensuring gender equality around the world . Those barriers depend on the country and the context, but social protection, access to public services, and sustainable infrastructure present important opportunities to correct inherent inequalities. For example, in some societies lack of access to sanitary materials keeps young women out of school when they have their periods. Many countries lack legal protections against gender discrimination and sexual harassment. In the United States, there is no guaranteed paid parental leave. These types of barriers force women and non-binary individuals to start from behind and there are steps we can take in each of these areas to level the playing field.