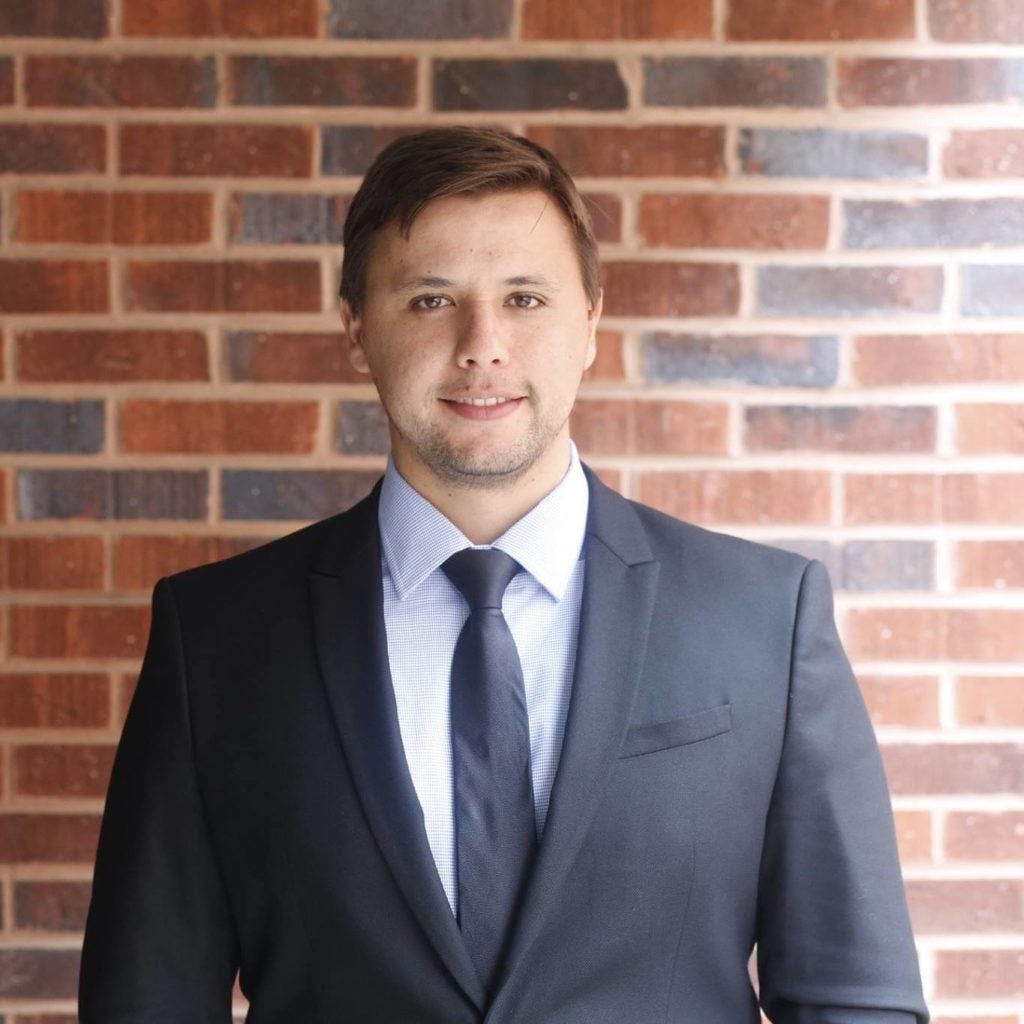 Like many of his counterparts around the world, when MSFS student Mohamed Almenfi (MSFS '20) was deciding what to study at university he looked to his family for advice. Born and raised in Benghazi, Libya, Mohamed had a cousin who worked for a Libyan oil company and who told him that few local people worked in the oil fields. Given the important role oil played in the Libyan economy, Mohamed felt that there should be more Libyans in the sector. He decided to study petroleum engineering and worked for several years in the oil industry. He loved his job and enjoyed the stability oil and gas seemed to offer. He recalls, "I could see myself ten years ahead, where I was going, where I was heading…so linear you can expect the steps and how you go up the career ladder."However, this security was upended in 2011 by the Libyan revolution. For Mohamed, it was a turning point; the conflict disrupted his education and set his life on a new course. "I was in my senior year. I was supposed to graduate in 2011, but I did not because the school was shut down. That's the time when I started to engage in the new local civil society, trying to provide services to people when we had the civil war and the government wasn't able to provide services."
Recruited by the United Nations, Mohamed joined the Food and Agricultural Organization (FAO) as a translator and program officer. In this role, he was part of an emergency project to deliver fertilizer to farmers. When the conflict ended later that year, Mohamed thought he would return to his career in the oil industry. "We call it the honeymoon. Everything was smooth. Oil production spiked and a lot of oil revenue came back to the country, so the government had the resources to establish a strong presence in the country."Mohamed graduated and secured a job working for Halliburton, an American company, but a year after he started in his position, Halliburton suspended its operations in Libya. ISIS had established a presence in the country. Mohamed decided to leave Libya and work for a time in Egypt's oil and gas sector. Again, just a year after finding a new role, global events saw Mohamed's employment situation drastically change. A significant drop in oil prices in mid-2015 resulted in huge layoffs in the oil and gas industry around the world. Mohamed's contract was ended and he immediately returned to Libya.
When Mohamed arrived back in his home country, he found a society that was struggling to cope with the effects of conflict and the imprint of ISIS's activities in the region. "Not only were universities closed, but also schools, so kids had no place to go and get an education. And also, there was this huge recruitment from radicals and also from militias recruiting young teenagers. And the fact that they didn't have any school or anything to occupy their time, they were prone to be recruited and be attracted to these activities. So, what to do? That was the big question. I had to do something."Inspired by the film Invictus, which tells the story of how rugby helped to promote unity in post-apartheid South Africa, Mohamed worked with a group of friends—including second-year MSFS student Mohammed Elmagbri—to bring the sport to Libyan youth. They co-founded an organization called Rugby 2018.Rugby 2018's immediate goal was to help build a community for young people while the schools were closed but it also aimed to teach youngsters about social responsibility, peace, and mental health issues. The concept of service and giving back was a critical motivation in establishing the organization: "The key aspect was 'We play for society. We play to pay back. There is no government. There is no state. And when there is no state and the country can't give to you, you give to the country.'"When the schools re-opened, Rugby 2018 continued. Some of its first participants are coaches now. They are taking the lead in encouraging the more than four hundred program participants to become civil society leaders as well as great rugby players. And the organization's goals get bigger every day. "Now we are turning the project into an academy and we are fortunate to have support from the United Nations Development Programme."
Mohamed pauses to reflect on the generosity of individuals and organizations in local private industry and the international community who have helped to support Rugby 2018's work: "As we are talking now, we are building a rugby field in Benghazi. We had a lot of donors helping us in spreading peace using sport. They believed in the message of using cultural diplomacy to bring people together, protecting kids from radicalization and militarization."It was ultimately Mohamed's experience with Rugby 2018 that led him to apply to the MSFS program. "I started to hear for the first time in my life about peacebuilding, about cultural diplomacy, about forging a national identity. For me, this vocabulary was new." Mohamed wanted to learn more.After receiving a fellowship from the Open Society Foundation, which helps civil society activists pursue higher education, Mohamed set his sights on MSFS. "My preference was Georgetown. I really liked how broad the program is." Also, Mohamed says that the MSFS program's Washington, D.C. location made it an ideal fit for him: "In the future, I can leverage the network that I have made here."
One of the aspects of MSFS that Mohamed most appreciates is the opportunity to learn from his fellow students: "I never thought I would be learning from my cohort as much as I'm learning from my professors, and I'm not exaggerating in saying this." Another element of the program Mohamed likes is the practical nature of the coursework. He says that the courses he is taking now will prepare him to implement projects and work with other organizations immediately after graduation.After finishing the MSFS program next May, Mohamed hopes to work in post-conflict areas on reconstruction efforts. Ultimately, he wants to return to Libya to help the country rebuild after the violence and upheaval that caused so much uncertainty in his own life: "I want to contribute to rebuilding my country again, so I knew I needed to study something where I can provide the base for the next generation."To learn more about Mohamed's work, visit www.rugby2018.org or the Rugby 2018 Facebook page.