On December 5, as students were gearing up for finals, the MSFS Diversity & Inclusion Committee held their last event of the semester. Titled "Choosing Empathy: Looking Beyond Political Difference", the student-led group participated in activities designed to help them engage in meaningful discussions with individuals whose politics diverge from their own.
The MSFS Diversity & Inclusion Committee is an MSFS student group which works to leverage diversity within the program to create culturally competent global leaders. The Committee is dedicated to providing the MSFS community with skills-building workshops and the greater Georgetown University graduate community with opportunities to effectively engage in difficult conversations in order to reach a place of cross-cultural understanding in their personal, professional, and academic interactions.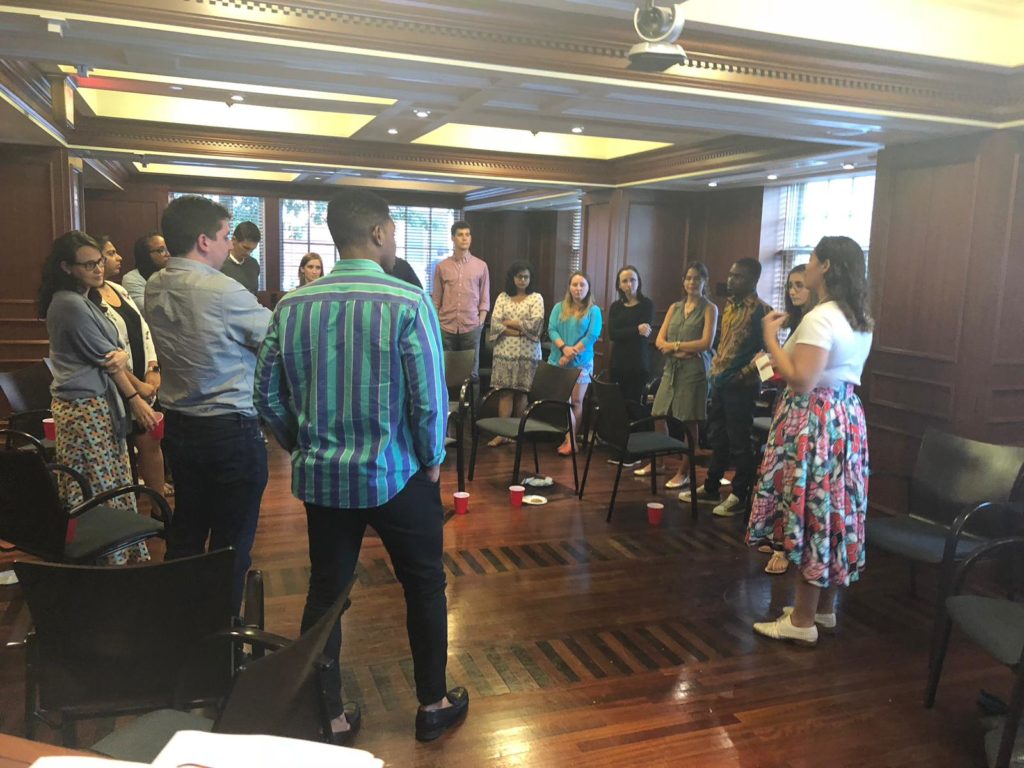 This semester, the group's programming included events exploring intersectionality, ethics and justice in political decision making, and diversity in development careers. Many of their sessions grappled with topics related to politically divisive current events. For instance, in early October – in the wake of Justice Brett Kavanaugh's confirmation hearings – the Committee hosted a screening of a documentary examining Anita Hill's 1991 accusations against U.S. Supreme Court nominee Clarence Thomas. When so many of the discussions at their workshops, screenings, and networking events revolved around seemingly polarizing issues, it was important to the group that they reflect on ways they could individually engage with those with differing political views.
Prior to the December 5 event, the Committee distributed articles to attendees that offered various assessments of the effectiveness of using empathy to inform decision-making. The advance reading informed participants' responses to activities exploring the difference between empathy and sympathy, finding common ground within partisan politics, and looking beyond disagreement to work together with leaders across the political spectrum on issues affecting the world today.
James Rodgers, a student from the MSFS Class of 2020, attended the event and found it useful in determining his approach to those who hold views opposed to his own. "It is often difficult to understand an "adversary" or someone from the "other side," but choosing empathy requires us to make a connection that goes beyond our political views," he said. "There's a difference between trying to understand where they're coming from and trying to judge whether they're right or wrong. There's very much a personal connection that needs to happen in order to empathize." As the Diversity & Inclusion Committee looks to its programming for next year, its leadership team hopes to infuse the value of empathy and a little festive spirit into the work they will be doing in 2019. As Muzna Abbas, the Committee's Communications Chair, commented, "This impactful event reminded us of the importance of having a positive approach, especially during the holidays!"