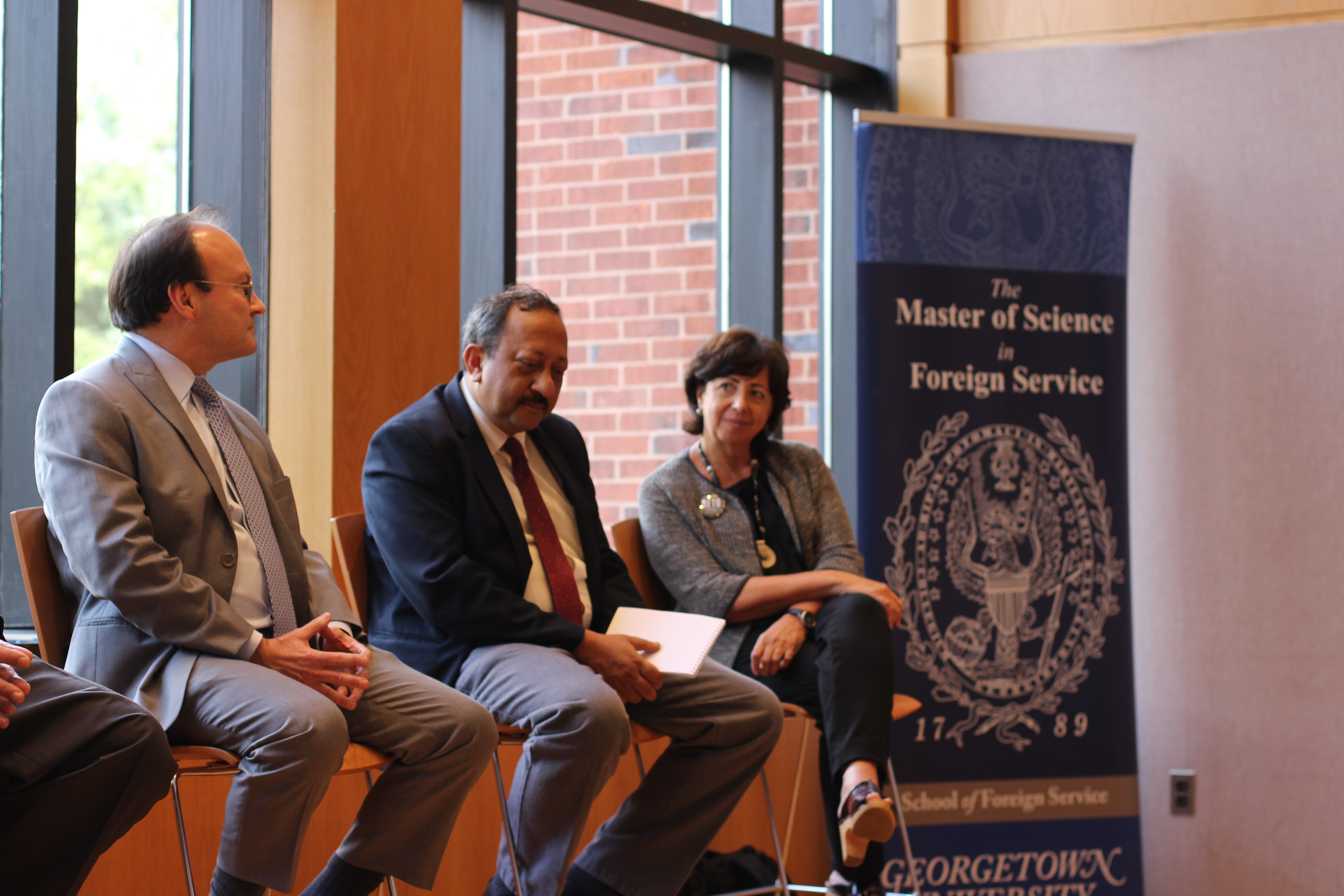 By: Jessica Kosmider On Thursday, September 20 the Georgetown University Master of Science in Foreign Service (MSFS) program launched a new professional development initiative, MSFS Practitioners in Residence. The initiative aims to promote interactions between MSFS students and leading practitioners in international affairs, as well as to help students advance their academic and career goals through mentorship, skills clinics, seminars, and career sessions.
The inaugural Practitioners in Residence group includes Kelly T. Clements (United Nations Deputy High Commissioner for Refugees), Marc Grossman (Vice Chairman of The Cohen Group and Former Under Secretary of State for Political Affairs), Elisa Massimino (Former President and CEO of Human Rights First), Amitabha Mukherjee (Lead Public Sector Specialist at The World Bank), Nick Silitch (Senior Vice President and Chief Risk Officer of Prudential Financial, Inc.), and Scott Wayne (President of SW Associates, LLC). The Practitioners represent a wide variety of industries available to foreign affairs professionals, spanning each of the MSFS concentrations: Global Politics and Security (GPS), International Development (IDEV), and Global Business and Finance (GBF).
Ambassador Nancy McEldowney, Director of the MSFS program, said of the Practitioners in Residence initiative: "We are so excited to welcome these wonderful leaders in international affairs to MSFS. By sharing their experience and expertise, these Practitioners will help to prepare our students to meet the world's challenges head-on, through rich and fulfilling careers. The Practitioners in Residence initiative is an enormously positive program."
GPS Concentration Co-Chair Nicole Bibbins Sedaca introduced the practitioners and moderated the kick-off panel, asking about the pressing trends in foreign affairs today and the important lessons for aspiring policymakers. Silitch said that from a business perspective, "there are more common threads, connections, because of the digital advances. The big lessons going forward are to keep a sense of responsibility in mind and to not underestimate what [students] are learning [at MSFS]—and the impact it could have on the world."
Massimino added that "one of the main challenges we are all facing is the failure of institutions to deliver for people, deliver rights, security, and economic prosperity all over the world…that makes us all as humans susceptible to fear, which tries to drive us apart. This, in turn, creates a vicious cycle of dysfunction, violence, and a violation of people's rights."
Although disruptive trends persist, MSFS students are well-equipped to apply the lessons learned in the classroom to their future professions. Not only will they be able to draw on MSFS's guiding values, but they also will also be able to connect their experiences to those of the senior-level PIR practitioners.